Join us for this incredible, multi-day, virtual event!
September 22-24
Join us as we kick off our event with an incredible evening of networking. Then take part in the largest professional women'sconference in New Jersey! This forum brings large corporations, entrepreneurs, not-for-profits and students together to get inspired andempowered, to form an agenda that will increase diversity in corporate leadership, and to build successful businesses.
---
3 Registration Options
•  Join us Wednesday night for in-person networking at The Palace at Somerset Park, 333 DavidsonAve., Somerset, NJ 08873.
Join us Wednesday night for in-person networking at The Palace at Somerset Park, 333 DavidsonAve., Somerset, NJ 08873 and attend the Thursday & Friday Virtual Conference.
Register Now




Already Registered and lost your code? Click below.
HIGHLIGHTS
•    8 Breakout Sessions
•    3 Executive TED-Style Talks 
•    Interact with Experts
•    One-on-One Coaching
•    Network with Fellow Attendees
•    Access to Recorded Sessions
This page will be updated on a regular basis with specific information on the various programs and speakers. Please check back frequently.
2021 WBLF Schedule Overview
Get years of experience packed into 4 days!
Network
throughout

the week!

via Zoom with Breakout Rooms

Throughout the week at various times through the day, we'll be offering large and small networking options. Groups will be either focused by industry or sector, allowing you time to pitch, or in a large setting where you can enter a group chat with more people. Take your pick, make a connection or two, and enjoy.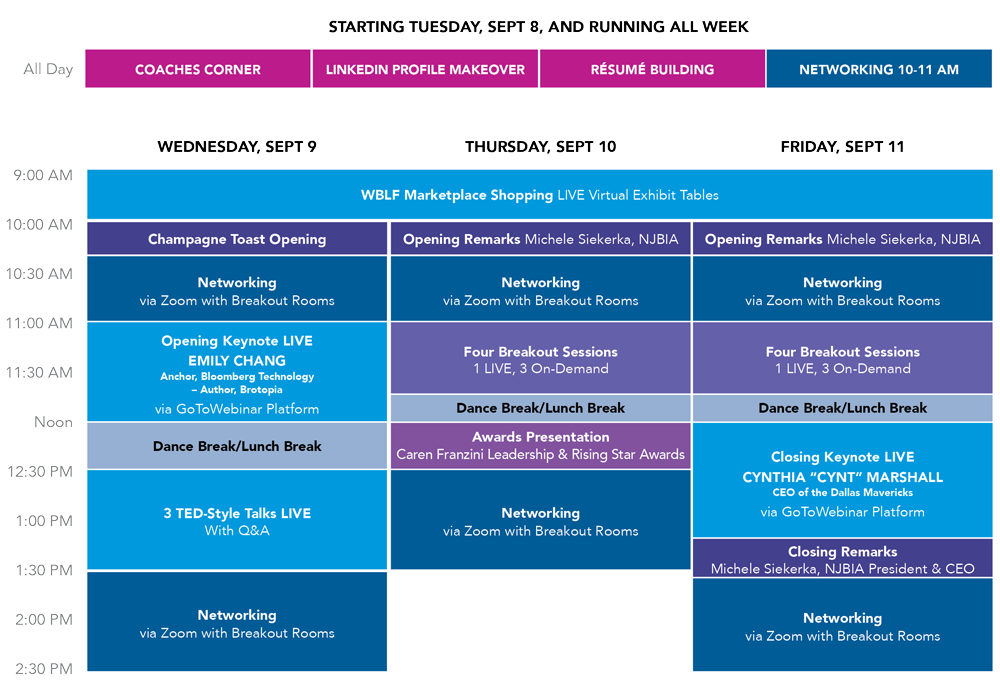 Download the Agenda
Workshops & Networking Details
Learn how to fine-tune your profiles, résumés and growth – One-On-One – with top experts.
BOOK Your Appointments! Must register first. Spots are filling up!
Coaches Corner
Coaching and mentoring is so important for our continued personal and professional growth. That is why we have handpicked a team of professionals to work with you. We have moved this popular session to the beginning of the week so that you can maximize your time at the event. Schedule your appointment with a coach or mentor.
Résumé Building
Of course, some things about job hunting haven't changed – the importance of networking and properly branding yourself, for instance – but it's also important to keep up with the latest job market trends to give yourself a competitive edge. Hear from those who've made the switch on how to set yourself up for a successful move.
Get a LinkedIn Profile Makeover
Let the experts help you take your LinkedIn profile to the next level and impress your network and connections. Schedule your appointment with a LinkedIn specialist and don't miss a minute of the event.
MEET OUR COACHES
Click to learn more about each coach.
---
---
---

Executive TED-Style Talks
Hear from three successful NJ business leaders, their
personal experiences and how they impacted their path
to leadership. This live presentation is not to be missed!
LIVE Wednesday 12:30 PM - 1:30 PM
Speakers:
Download the Agenda
THURSDAY BREAKOUTS
From new to experienced, our 4 breakout sessions will help your career development.
---
Front Line / Entry Level: How Coaching and Mentoring Can Benefit You and Your Organization
On-Demand: Coaching and mentoring can provide an array of benefits for organizations of all sizes, especially small businesses. When conducted in an efficient and productive manner, it provides employees a way to connect, learn and grow within the company and along their own career paths. In these changing times, virtual working has added an additional layer of difficulty to both coaching and mentoring. Hear from experts who've been there about the differences between coaching and mentoring and learn how you can use each to take you and your organization to the next level. Moderator: Edina Brown. Speakers: Kerri Chewning, Valerie Dolan, Dana N. Moore
---
Middle Management: How to Manage Culture in Virtual Teams

On-Demand: You're responsible for your virtual team's performance – and you have a critical job in the company. Leading a virtual team can be challenging. You're expected to maintain morale, keep communication open, overcome technological glitches, keep your workers on task, and meet project objectives. This session will identify ways in which you can manage culture in virtual teams. Moderator: Clelia Pergola. Speakers: Rachel Durkan, Donna Miller, Laura Osborn
---
Senior Management: Be a Leader who Strives for Excellence
LIVE 11:00 - 11:45 AM
To strive is to thrive. An organization is either regressing, static in a changing world, or leading. In today's world of constant change, creativity and innovation, one cannot truly lead without being excellent. That simply means being better than expected. Hear from leaders how you can be better than your competitors by seeing and tapping the potential in the team around you – even when they can't see it themselves. Find out how you can be the first at being the best and how this theme can apply to any discipline in any organization. The rewards are innumerable. Moderator: Dr. Ginny Baro. Speakers: Lisa Nelson, Lori Roth, Judy Sailer
---
Special Session: A Businesswoman's Voice in Public Policy
On-Demand with moderator and 3 Speakers: The public policy arena offers many career opportunities, but women are often underrepresented in this space. During this session you will hear how to build your professional network from current elected officials, how they got their start and their recipe for success. Moderator: Charlene Brown.  Speakers: Carole Johnson,  Lt. Gov. Sheila Oliver
FRIDAY BREAKOUTS
Tackle challenges and adversity head on with these 4 breakout sessions to help your company succeed. 
---
Money Matters:
How to Find it, Spend it Wisely, and Manage it as an Entrepreneur
On-Demand: No matter what stage your company is in, during these difficult times, having sufficient capital is a top priority. The challenges in gaining access to and securing capital are multiplied for women entrepreneurs, and once you get the funds you need, the next step is determining how best to use them. Whether you're bootstrapping or have a venture capitalist lined up, learn from our all-star panel of entrepreneurs and financial experts about savvy ways to maximize your money to accomplish your business goals. Moderator: Joyce Rojas. Speakers: Mary Baker, Lindsey Holmes, Shy Hopkins
---
Online Strategy: Creating a Diverse Online/Social Media Presence that is Memorable and Helps Women Thrive in the New Normal
On-Demand: In a work-from-home environment, women must be at the top of their game in managing their online presence along with their social and professional networks. Hear from the leading experts on how to develop a memorable online presence that elevates your personal brand. Panelists include experts from New Jersey's leading career-focused college, the CEO of a top national woman-owned digital marketing agency, a CEO of a Black-owned entertainment company and brand strategist, and a bestselling author, speaker and celebrity media coach. Participants will earn how to build their brand, improve their on-camera confidence and grow their businesses. This session is designed for established professionals, business owners and community-based leaders poised for even greater success. Moderator: Angela Harrington. Speakers: Rachel Schulties, Syleecia Thompson, Adel Wilson
---
Adversity: Strengthening Your Resilience

LIVE 11:00 - 11:45 AM
People that keep their cool in the face of adversity have what psychologists call resilience. This is an ability to cope with setbacks and problems. Instead of hiding from their problems with unhealthy coping strategies or falling into despair, resilient people choose to face life's difficulties head on. They handle these difficulties in ways that foster growth and strength, and can emerge stronger than they were before. Learn the tips and tools to strengthen your resilience and stay cool in the face of adversity. Moderator: Rachel Wilner. Speakers: Michelle Bajwa, Osato Chitou, Taneisha Laird, 
---
Communication & Negotiation: Getting to Yes

On-Demand: Negotiation is essentially an exercise in communication. The underlying objective is to use communication techniques to convince, persuade, or alter the perceptions of another. Learn from our panel of experts some tried and true tips for building rapport and breaking down the barriers. Moderator: Jackie Lue Raia. Speakers: Rina Desai, Nikki Sumpter, Susanne Svizeny
MEET OUR SPEAKERS
Click to learn more about each speaker.
---
---
---
---
---
---
---
---
---

WBLF Virtual Marketplace
Goes LIVE Sept 8
Browse and shop our virtual exhibit tables from vendors around the state. Have questions about their products? Not finding what you're looking for? No problem! Our virtual exhibit tables have individual LIVE Zoom Rooms from 9 AM to 10 AM every day!  
Download the Agenda
Meet our 2021 Award Winners!
Watch the Award Presentation on Thursday, Sept 10 at noon!
The Caren Franzini Leadership Award
Charlene Brown, President, AT&T – New Jersey
AT&T-New Jersey President Charlene Brown, a public relations and government affairs executive, has been named the 2020 recipient of the New Jersey Business & Industry Association's Caren Franzini Leadership Award. Brown's trailblazing career has made her a role model for a new generation of leaders.
"The Caren Franzini Leadership Award is an honor bestowed on individuals who inspire and empower others to achieve professional excellence," said NJBIA President & CEO Michele Siekerka. "NJBIA is pleased this year to be honoring Charlene, who like the award's namesake, is a dynamic, hardworking executive who leads by example in both the business world and in the community."
As president of AT&T-New Jersey, Brown develops and implements AT&T's public policy and philanthropic initiatives. She is also AT&T's primary contact for state and local government officials, as well as policymakers and community leaders statewide. Before moving up the ranks at AT&T, Brown was a press secretary for the state Human Services commissioner for nearly a decade and a former journalist.
Brown is currently active in many public and private organizations and serves on numerous boards, including Felician University and the New Jersey Commission on Science Innovation & Technology. Brown is also an executive officer at the nonprofit Drumthwacket Foundation.   
The Caren Franzini Leadership Award honors the legacy of the longtime chief executive of the New Jersey Economic Development Authority, who died in 2017.  Franzini worked with seven governors from 1994 to 2012 to promote entrepreneurship and economic growth, particularly in New Jersey's largest cities. After her tenure at EDA, Franzini served on NJBIA's board of trustees until her death at age 57.
Rising Star Award Winners
Five future business leaders who are standouts at New Jersey colleges and universities because of their academic work, leadership and community involvement will be honored with Rising Star awards.
"NJBIA's Rising Star Awards honor students who have demonstrated a passion for their career path, academic success, and a commitment to volunteering in their communities during their undergraduate careers," NJBIA President & CEO Michele Siekerka said. "This year, we are proud to recognize the accomplishments of five women who have distinguished themselves at New Jersey institutions of higher education and are destined for great professional success." The 2020 winners are listed below in alphabetical order.
---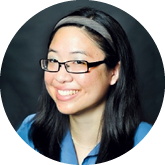 Clara Chen, of Moorpark, CA. Chen is Harvard University graduate currently training at Hackensack Meridian School of Medicine (HMSOM) to become a pediatric gastroenterologist. During her gap year before medical school, she worked at a Boston neuroimaging startup, an experience that has inspired her career plan to seek an alternative pathway to attain an MBA after she has completed medical school and established herself as a doctor. Ultimately, she would like to use her future medical and business degrees to form a health startup focused on improving gastrointestinal health. Chen has shined in numerous leadership positions at both Harvard and HMSOM, including working with HMSOM deans and local health leaders to create a student-run health clinic offering free preventative healthcare to the community.

---
Ankita Kodali, of Union, NJ. Kodali is a senior at Rutgers University-New Brunswick, where she is double majoring in accounting and finance, with a minor in economics. A regional winner of the Future Business Leaders of America's accounting competition, Kodali has worked closely with Rutgers faculty to launch a program for high school students in disadvantaged socio-economic areas in order to provide experiential learning opportunities that will help them become successful business leaders. Kodali plans to earn her CPA license after graduating from Rutgers in May 2021 and is excited to have already accepted the offer of a full-time position at Deloitte, where she will launch her career after graduation. 
---
Gabrielle Marie Peralta, of Newark, NJ. Peralta, a business administration major at Berkeley College, honed her leadership skills in the U.S. Marine Corps, where she learned the ins and outs of supply shipping and receiving by working in the warehouse supplying her military unit. As president of the Student Government Association at Berkeley's Woodland Park campus, she oversees all student clubs, serving as a bridge between students, faculty and staff. She also has served as president of the Spartans club at Berkeley, a branch of the Student Veterans of America, where she has spearheaded numerous community service projects. After graduating in May 2021, Peralta plans to combine her love of baking with her expertise in distribution and logistics to start her own bakery truck business.
---
Olivia Strama, of Wallington, NJ. Strama is a Berkeley College sophomore majoring in criminal justice who aspires to be a law enforcement officer. As a college freshman, she began an internship with the Paramus Police, which gave her the opportunity to shadow police officers, detectives and captains in various divisions. A student ambassador at Berkeley, Strama is also an active community volunteer who was recognized in 2019 as being among the Berkeley students with the most community service hours. After graduation in May 2023, she intends to pursue a master's degree in public administration, cybersecurity or homeland security.
---
Lauren Valentine, of Bloomfield, NJ. A graduate of Boston College, Valentine is currently training to be a physician at Hackensack Meridian School of Medicine (HMSOM). As the co-founder and student leader of HMSOM's COVID care team, she created a virtual platform that connects front-line providers from the Hackensack Meridian Health network to medical students who provide fun and educational online programs for healthcare workers' children, including helping them with schoolwork during the pandemic. Valentine also volunteers as a student mentor of incoming medical students at HMSOM, and has volunteered for numerous community service projects at both HMSOM and Boston College.
FAQ
How do I register for a virtual event?
Get started by going here: Register Now
Can my computer or mobile device handle the virtual event?
Here are the requirements for the main streaming platforms:
What do I need to do on the day of the virtual event?
You will need your Email Confirmation as it has your Access Code to access the event. If you can't find your Email Confirmation, please check your SPAM folder. Or reach out to our events staff to have them resend the email confirmation. 
What are the technical requirements needed to participate?
To participate, you need an Internet connection and web browser. For the best viewing experience, we recommend that you join the conference using a supported internet browser, which includes Google Chrome, Firefox, and Safari. Internet Explorer is not recommended as some functions, such as chat, are not fully supported. We'll be streaming in HD but some computers and internet connections may not quickly auto-adjust to a lower resolution stream. If you experience buffering or issues with viewing the video stream, you may have a better viewing experience by reducing the quality to SD manually. 
Here are the main Streaming Platforms FAQs and technical support Help Articles here:
• YouTube
• GoToWebinar
• Zoom
What happens once I register?
Once you register, you will receive an email confirmation with detailed instructions on how to access your sessions.
---
Have questions or need assistance, email or call us at (800) 499-4419
---
Our Partners
Sustaining Partner
---
Foundation Partners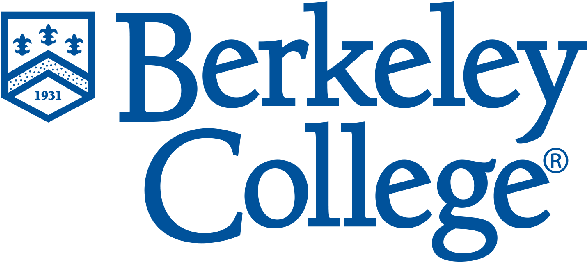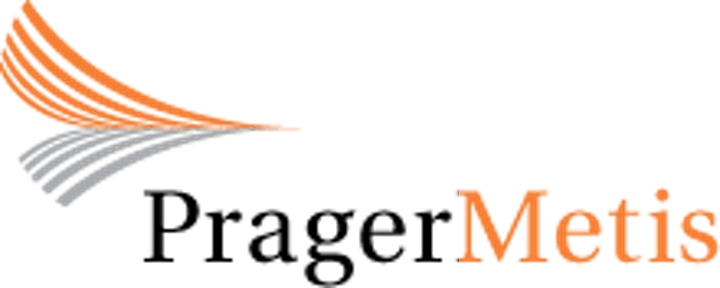 ---
Premier Partner
---
Platinum Partner

---
Grand Partners

---
Champagne Toast Partner

---
Gold Partners
---
Silver Partners
                             
---
Awards Partner

---
Networking Partners
---
Bronze Partners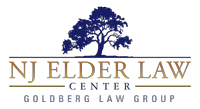 ---
Event Partners
---
Coaches Corner Partners
         
         
---
Marketplace Partners