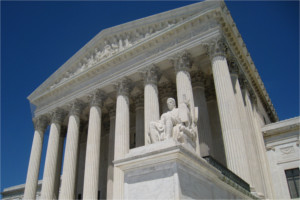 Supreme Court nominee Brett M. Kavanaugh generally takes a narrow  approach to employment-related lawsuits, tends to refer to the plain text of statutes,  and resists the urge to "legislate from the bench," according to an assessment by the law firm Jackson Lewis.
President Donald Trump's choice to replace retiring Justice Anthony Kennedy has been a federal judge on the U.S. Court of Appeals since 2006 and has an extensive record, which 16 attorneys analyzed for insights into his thinking on employment law, corporate governance and other issues important to the business community.
"While the nomination process was swift, the confirmation process is likely to be contentious," the Jackson Lewis attorneys write. "Any nominee to the Supreme Court can expect deliberate and careful scrutiny, but in the context of losing Justice Kennedy's critical 'swing' vote, Judge Kavanaugh's record of judicial decisions will receive even more attention than usual."
In some of the cases highlighted by Jackson Lewis, Kavanaugh:
wrote a dissent saying the Consumer Financial Protection Bureau is unconstitutional because having only one director erodes the president's Article II powers;
argued in favor of making it easier for plaintiffs to establish a prima facie case in a discrimination case;
wrote concurring opinions expanding the definition of adverse employment action to include refusal to grant requests for lateral transfers;
vacated an NLRB decision that had found an employer unlawfully banned employees from wearing certain union t-shirts; and
argued that L-1B visas do not authorize an employer to displace American workers for foreign workers for "economic expediency."
Kavanaugh graduated from Yale Law School in 1990 and immediately began clerkships U.S. Court of Appeals judges, as well as Justice Kennedy, whom he has been nominated to replace. He spent time in private law practice, as a partner at Kirkland & Ellis in Washington, D.C.  He was first Associate Counsel, and then Senior Associate Counsel to the President in the George W. Bush White House, and was Assistant to the President and Staff Secretary to the President.