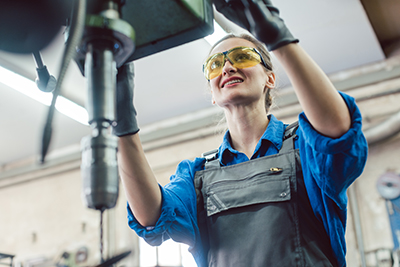 The U.S. Department of Labor this week announced a funding opportunity of $3.5 million for up to 10 grants to increase and retain the number of women in Registered Apprenticeship Programs and nontraditional occupations such as those in the manufacturing, infrastructure, cybersecurity and healthcare industries.
The US DOL's Women in Apprenticeship and Nontraditional Occupations (WANTO) grant program supports community-based organizations to recruit, mentor, train and retain more women in registered apprenticeships and nontraditional occupations. Applicants must provide one or more of the following types of technical assistance:
Developing pre-apprenticeship, registered apprenticeship or nontraditional skills training programs to prepare women for those careers.
Providing ongoing orientations for employers, unions and workers to create a successful environment for women to prosper in those careers.
Setting up support groups, facilitating networks and providing supportive services for women to improve their retention rate.
These grants seek to address the significant under-representation of women in apprenticeship programs and in general in high-growth, high-wage Science, Technology, Engineering and Math-related occupations. While women make up nearly half of the U.S. labor force, they comprise only 12% of registered apprentices.
Registered Apprenticeship Programs offer workers a pathway to the middle class and help companies recruit, develop and retain a highly skilled workforce. In addition to their long history in skilled trades such as construction, emerging and high-growth industries like manufacturing, infrastructure, cybersecurity and healthcare are increasing their use of apprenticeships.
To apply for a 2021 WANTO grant, go here.