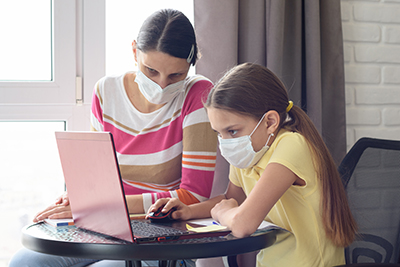 The state has a new webpage providing guidance on when state and federal leave laws cover employees whose children are attending school remotely, or on staggered schedules, due to COVID-19.
The Department of Labor and Workforce Development (DOL) produced the materials to help employees determine what income-replacement, paid leave, and job protection benefits are available if their children's school or day care is closed for in-person learning.
The webpage – https://www.nj.gov/labor/worker-protections/backtoschool.shtml – provides plain-language explanations of benefits and protections that may be utilized if remote learning is mandatory, or for the days children are required to be at home if they're attending school on alternate days.
Available benefits include Pandemic Unemployment Assistance (PUA), a federal benefit; paid leave under the Families First Coronavirus Response Act (FFCRA); and job-protected leave under New Jersey Family Leave Act. These benefits are available to a primary caregiver who is unable to work because their child is remote learning.
Paid leave under FFCRA and federal unemployment assistance are available when remote learning is mandatory, not when it's optional. For children participating in mandated hybrid models – which most New Jersey districts have chosen – these benefits may be available for the days the child is at home.
In addition, many New Jersey residents are covered under the New Jersey Family Leave Act, which provides up to 12 weeks of job-protected leave to care for a loved one, including a child, if their school or place of care is closed due to COVID-19.
The webpage includes frequently asked questions, links to relevant laws, and more. An online eligibility tool determines in three questions the benefits and job protections employees may be eligible for.
Information on the webpage and within the eligibility tool does not constitute legal advice, nor does it guarantee eligibility for benefits, DOL said. However, both resources can help parents and guardians make the best decisions possible for themselves and their families amid COVID-19.
The NJ Division on Civil Rights enforces the New Jersey Family Leave Act. For more information, visit https://www.nj.gov/oag/dcr/downloads/fact-FLA.pdf.