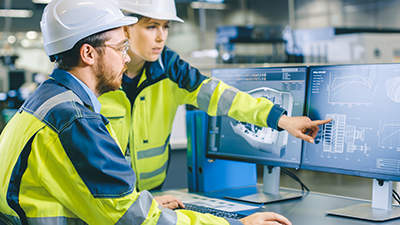 The County College of Morris (CCM) and its partner schools are offering training and apprenticeship programs for those looking to build rewarding and well-paying careers in the high-demand field of advanced manufacturing. 
CCM's Center for Workforce Development, which is overseeing the program, will be holding a series of eight virtual open houses where individuals can learn more about the boot camp and apprenticeship program. The first session takes place on Wednesday, Jan. 27 at noon. 
The first step to becoming an apprentice in the CareerAdvance USA program is to take part in a boot camp to learn the basic skills needed for employment in advanced manufacturing. The boot camp covers all the advanced manufacturing basics and gives students the opportunity to earn college credits over a four- to nine-week timeframe.  
An OSHA 10 General Industry Completion Card, up to five National Institute of Metalworking Skills certifications and a SolidWorks certification are awarded upon successful completion of the certification exam and required hours. Job opportunities for apprentices include computer numerical control operator, manual machinist, shop technician and CAD drafter. 
Apprentices are then hired by a company to take part in on-the-job training, while receiving related technical instruction, for about one year. During an apprenticeship, participants are trained at the company as well as on CCM's campus. This allows companies to hire suitable apprentices permanently after the apprenticeship is over.  
While the apprenticeship program is offered at no cost, there is a $3,750 fee, plus the purchase of supplies, to take part in the boot camp, according to Innovation NJ. Scholarships are available, and payments can be made over time, instead of being due as one lump sum. 
In addition to the open house on Wednesday, additional online open houses will be held at the following times: Feb. 10 at 2 p.m., Feb. 24 at 5 p.m.; March 10 at 9 a.m.; March 24 at noon; April 7 at 2 p.m.; April 21 at 5 p.m.; and May 5 at 9 a.m. 
Those interested in the program can sign-up for an information session and receive Zoom login information by visiting www.ccm.edu/apprenticeships. 
CCM was awarded a four-year $4 million CareerAdvance USA grant from the U.S. Department of Labor to lead a consortium of New Jersey community colleges to create successful apprenticeship models in advanced manufacturing. The participating schools are Bergen Community College, Camden County College, Hudson County College, Mercer County Community College, Middlesex County College, Raritan Valley Community College and Rowan College of South Jersey.  
Together, these community colleges are working with national industry partners including Carl Stahl Sava Industries, Marotta, North American Plywood Corporation, Norwalt Design, Thorlabs, The Weiss-Aug Group, and other leading firms in New Jersey. 
The 31,500-square-foot Advanced Manufacturing and Engineering Center on the CCM campus that opened this fall is serving as a major resource for the program, featuring state-of-the-art facilities and equipment designed to meet the demand for trained employees. 
It is estimated that over the next decade advanced manufacturing will need to fill 3.4 million jobs with most openings related to the retirement of baby boomers. The field pays well with an average starting salary of $45,000 to $65,000 plus benefits after completing an apprenticeship. 
 Additional information also can be found on the CCM website or by emailing careerusa@ccm.edu.