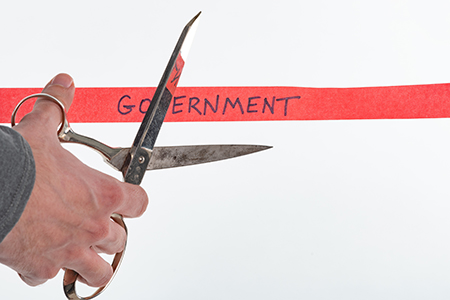 NJBIA is rallying business owners in support of a bill on the Governor's desk, which could help improve New Jersey's regulatory climate by creating a Government Efficiency and Regulatory Review (GEARR) Commission to identify state regulations that unduly burden businesses and stifle economic growth.
New Jersey business owners are asked to email Gov. Phil Murphy to urge him to sign the GEARR bill in order to make state government more responsive to residents, more accessible to people and small businesses impacted by regulations, and more transparent to all taxpayers.
Go here to voice your support for the legislation in a message to the governor.
The GEARR legislation, A-4810/S-441, has been on the governor's desk since Feb. 19 after having received overwhelming bipartisan approval in the Senate (35-0) and the General Assembly (72-1). The Legislature's bipartisan Manufacturing Caucus has also identified this bill as a high priority because overregulation acutely impacts New Jersey manufacturers, which employ about 250,000 people.
"Businesses need an improved tax climate, innovation ecosystem, workforce development pipeline, infrastructure and regulatory environment," said NJBIA Vice President of Government Affairs Christopher Emigholz. "Reducing regulatory burdens is the only item of those five key components to economic growth that does not have a fiscal cost to government."
One of the recommendations in NJBIA's recent Indicators of Innovation report called for a commission to review New Jersey's regulatory structure with the goal of identifying inefficiencies, Emigholz noted. Under the GEARR bill, the governor's chief innovation officer would chair the commission tasked with making recommendations to the governor about amending rules, regulations or executive orders that unduly burden the state's businesses, workers, and local governments.
On Monday, two longtime New Jersey manufacturers published in an op-ed in ROI-NJ urging the governor to sign the GEARR bill, which is sponsored by former Assemblywoman Nancy Pinkin (D-18), Assemblywoman Valerie Vainieri Huttle (D-37); Assemblywoman Carol Murphy (D-7), Senator Steve Oroho (R-24), and Senator Paul Sarlo (D-36).
To read that op-ed by UNEX Manufacturing Chairman Brian F. Neuwirth and Falstrom Co. CEO Clifford Lindholm, go here.
To email the governor, go here.