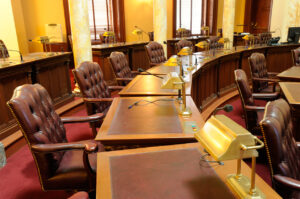 NJBIA is urging legislators to stop imposing new burdens on business as the lame-duck voting session gets underway, arguing that businesses have had to shoulder more than their fair share in the last 20 months.
In a statement released this morning, NJBIA President and CEO Michele Siekerka reminded lawmakers of the numerous tax increases and mandates that already have been imposed on New Jersey businesses.
"Over the past 20 months, business in New Jersey has been hit with a wide range of mandates and added costs that have only solidified our unfortunate standing as the state with the least-friendly business climate in the nation," Siekerka said. "This trend needs to reverse for the sake of New Jersey's competitiveness and affordability."
"Before considering bills that will add more burdens on business, our policymakers should recognize their already established reliance on our job creators," she added. "A minimum wage increase, expanded mandatory paid sick leave, extended paid family leave, and an array of energy and other regulatory mandates have already been put into effect during this Legislative session, costing businesses more time and money."
Read the full statement here.
Twelve Senate and Assembly Committee meetings are scheduled for Thursday, and lawmakers have a long agenda to get through between now and Jan. 14, when the new Legislature is sworn in and all legislation still pending at that time has to be reintroduced and start the legislative process from the beginning.
Ten days of committee meetings and/or voting sessions are scheduled before the Jan. 14 quorum call.