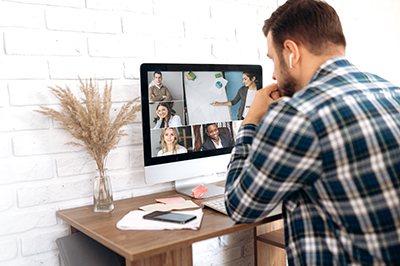 COVID-19 has accelerated trends in remote work, e-commerce and automation, which means up to 25% more workers than previously estimated may need to switch occupations, according to a new McKinsey Global Institute report. 
"Compared to our pre-COVID-19 estimates, we expect the largest negative impact of the pandemic to fall on workers in food service and customer sales and service roles, as well as less-skilled office support roles," MGI said in its report, "The Future of Work After COVID-19″ released on Thursday.  
 "Jobs in warehousing and transportation may increase as a result of the growth in e-commerce and the delivery economy, but those increases are unlikely to offset the disruption of many low-wage jobs," MGI said. 
MGI, the business and economic research arm of McKinsey & Company, said that in the United States, 800,000 new transportation jobs will be created and the demand for healthcare and STEM occupations will also increase, but 4.3 million customer service and food service jobs could be lost. The pandemic's substantial impact on low-wage jobs, means almost all future growth will be in high-wage jobs. 
"Going forward, more than half of displaced low-wage workers may need to shift to occupations in higher wage brackets and requiring different skills to remain employed," MGI said. "Given the expected concentration of job growth in high-wage occupations and declines in low-wage occupations, the scale and nature of workforce transitions required in the years ahead will be challenging." 
The pandemic spurred companies and consumers to rapidly adopt new behaviors that are likely here to stay, with a lasting effect on labor markets. Remote work and virtual meetings will continue, albeit less intensely, with 20% to 25% of the workforce in advanced economies working from home three to five days per week, MGI said. 
"This represents four to five times more remote work than before and could prompt a large change in the geography of work, as individuals and companies shift out of large cities into suburbs and small cities," MGI said. 
Remote work may put a dent in business travel, with possibly 20% of business travel, which is the most lucrative for airlines, never returning, MGI said. Remote work will also allow companies to downsize office space. And with fewer workers coming into offices every day, public transportation and the demand for restaurants and retail stores in downtown areas will likely decline as a result. 
E-commerce has grown two to five times faster than before the pandemic and other types of virtual transactions, such as telemedicine, online banking and streaming entertainment have also taken off, the researchers noted. This shift to digital transactions is propelling growth in delivery transportation and warehouse jobs. 
Companies are also accelerating automation and artificial intelligence in warehouses, grocery stores, call centers and manufacturing plants to both reduce workplace density during COVID-19 and meet increased customer demand for products. 
To assess the future of work after COVID-19, MGI researchers analyzed 800 occupations in eight countries with diverse economic and labor models: China, France, Germany, India, Japan, Spain, the United Kingdom and the United States. These eight countries account for nearly half the global population and 62% of GDP.  
"The most disadvantaged workers may have the biggest job transitions ahead, in part because of their disproportionate employment in the arenas most affected by COVID-19," MGI said. "In Europe and the United States, workers with less than a college degree, members of ethnic minority groups and women are most likely to need to change occupations after COVID-19 than before." 
The report recommends that policymakers could support businesses by expanding and enhancing digital infrastructure, even in advanced economies, because almost 20% of workers in rural households lack access to the internet. The business community and policymakers should also collaborate to support workers that need to upgrade skills and change occupations, the report said.  
To read the report, go here.