It's early June – the beginning of the end of budget season in New Jersey.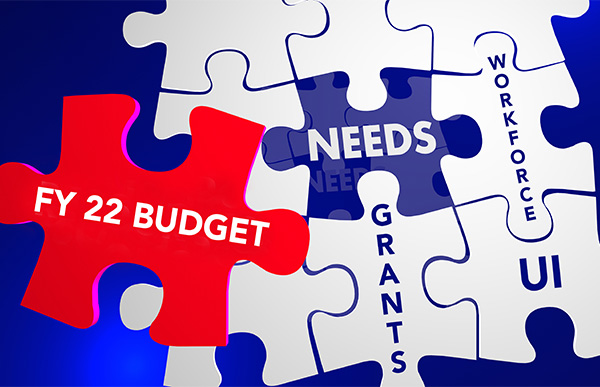 With COVID-19 upending how employers go about their business, NJBIA has been requesting budget language additions from legislative leadership and budget committee members  to stimulate the economy using federal funds without increasing the size of the state's massive $44.8 billion budget. 
"New Jersey is flush with cash thanks to an influx of federal recovery money and what was unnecessary borrowing in the FY21 budget last September," said NJBIA Vice President of Government Affairs Christopher Emigholz. "And unfortunately, New Jersey is not able to use those federal funds to pay off previous state debt. 
"But we can take effective and essential steps to grow our economy through workforce development, unemployment insurance (UI) replenishment and further small business grants. We've urged help in these areas through the American Rescue Plan funds that New Jersey has received. This will all really go a long way in helping what ails New Jersey right now." 
Workforce Training 
Once upon a time, community colleges used to receive over a $1 million a year from the New Jersey Department of Labor & Workforce Development for the successful basic skills training program.  
During the pandemic, that figure has been cut nearly in half – even though training needs are greater than ever. 
With that, NJBIA has recommended new budget language to require no less than $3 million for the Workforce Literacy and Basic Skills Program. 
NJBIA is also requesting $8.5 million be appropriated for the Workforce Development Partnership Fund for other training needs.  
This would be used to connect NJDOL and the State Employment Training Commission with eligible training providers throughout the state to align training and needs of employers in key industries to develop new education and training programs. 
To address New Jersey's great hiring challenges, NJBIA is also seeking $12 million in federal recovery funds to provide short-term training to displaced workers from the pandemic. 
"New Jersey still has one of the highest unemployment rates in the nation, yet employers can't fill jobs," Emigholz said. "So, the need to reskill and upskill employees is more than it has ever been before.  
"We believe these additional resources for the budget will help employers and employees, really driving our economy so that we can recover as quickly as possible." 
Unemployment Insurance 
There is no question that New Jersey's UI Fund took an absolute beating during the pandemic. 
To soften the blow of an impending UI payroll tax increase on employers, NJBIA has requested the Legislature appropriate no less than $400 million of the state's share of the American Rescue Plan to New Jersey's Unemployment Trust Fund to reduce the automatic payroll tax increase. 
"You think about it – what is a payroll tax?" Emigholz said. "It's essentially a tax on jobs. This replenishment would really go a long way to help employers and the state's fiscal footing at the same time." 
Additionally, on UI, a law was signed last year to help reduce the impact on employers for a $1 billion payroll tax increase. But the law is being interpreted differently from what was intended for the many nonprofits that opted to pay for reimbursements for UI instead of through the payroll tax. 
Basically, many nonprofits use this reimbursement option available to them because they traditionally have more stable workforces. Their few thousand-dollar reimbursements every few years made more financial sense to them than the UI payroll tax that would have cost them more and funds a program of which they rarely take advantage.  
Because COVID-19 changed all of this, NJBIA is pushing bill A-5691 (Greenwald/Murphy/Verrelli)/S-3714 (Madden/Gopal) to protect nonprofits from these bills. But if the legislation is not passed and signed in time, NJBIA is seeking budget language to accomplish this to give huge boost for its important nonprofit employers. 
"Nonprofits are major employers providing jobs to about 10% of the state," Emigholz said. "At the same time, they offer services such as childcare that support the rest of the workforce. Their recovery is desperately needed for a broad economic and job recovery." 
NJEDA Small Business Grants 
Throughout the pandemic, the New Jersey Economic Development Authority has allocated millions of dollars in grants to small businesses. 
However, most of those grants were oversubscribed due to the overwhelming needs and those needs continue as small businesses look to recover from more than a year of shutdowns and restrictions. 
As such, NJBIA is seeking no less than $500 million in the FY22 budget – again, from federal funds – to compensate businesses for lost revenue due to the pandemic. 
"Simply put, this was a historic public health emergency that resulted in historic challenges for small businesses," Emigholz said. "This allocation will bring more help, which is still much-needed, to our employers."