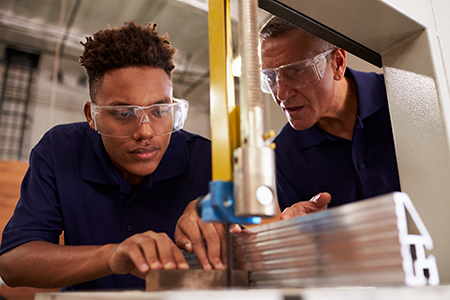 The New Jersey Department of Labor and Workforce Development (NJDOL) has announced $2 million in available grant funding through the Pre-Apprenticeship in Career Education (PACE) training program.   
Pre-apprenticeship programs funded through PACE provide education and training that prepare participants for placement into a Registered Apprenticeship program, into a post-secondary college or occupation-specific career training program, or into the workforce. PACE programs provide tools such as job readiness, essential skills, and occupation-specific training. 
In addition, PACE funding can be used to offer stipends to participants to offset costs of supportive services, such as childcare and transportation. The PACE program was developed primarily to help alleviate economic barriers that hinder upskilling.   
PACE programs must have a documented partnership with at least one Registered Apprenticeship program sponsor. Together, these programs expand career pathways with industry-based training and classroom instruction, leading to better-paying positions and advanced credentials. 
Grant applications that include pre-apprenticeship training and placement into employment for residents affected by COVID-19 will be given higher priority. Applications that seek to build career pathways for individuals without a high school diploma or recognized equivalent or demonstrate a viable strategy to recruit targeted populations will also be given higher priority. 
NJDOL's Office of Apprenticeship will host remote technical assistance workshops from 2 p.m. to 4 p.m. on March 9 and March 16 to provide guidance to interested parties. To register, go here. Eligibility details submission deadlines can be found in the full Notice of Grant Opportunity here.