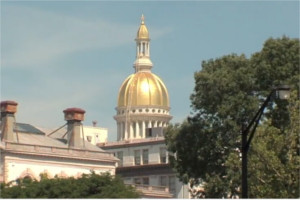 While NJBIA covered the election results from Tuesday, the key points to keep in mind are as follows. The Assembly Democrats retained the majority of their seats, however, they lost two Assembly seats in District 1 (Cape May County) and are waiting on the results of the District 2 election. As such, the Assembly Democrats will retain a strong majority (52-28) as we head into the next legislative session in the middle of January. As for the Senate, the Democrats lost one seat in District 1 bringing their majority to 25-15.
On Thursday, leadership elections were held in each of the four legislative caucuses. There were no changes to the top leadership posts, with Senate President Stephen Sweeney, Speaker Craig Coughlin, Senate Minority Leader Tom Kean and Assembly Minority Leader Jon Bramnick all being reelected by their legislative colleagues.
And, as I mentioned, the Legislature is back in session with several bills that are very challenging to the business community. Specifically, the Senate Labor Committee is scheduled to meet Thursday, Nov. 14 and will consider the following bills. Please review and let Mike Wallace know your thoughts at mwallace@njbia.org.
S3023 (Greenstein) – Permits union officials who represent probation officers to participate in all union activities.
S4064 (Singleton) – Concerns responsibility of owners for wage claims against subcontractors.
S4167 (Madden) – Concerns skilled and trained workforce in work by contractors in certain industries.
*S4204 (Sweeney) – Concerns employment status of individuals with respect to wage and hour and unemployment laws.                                                                                                                     *This bill makes changes to the ABC test- See attached
We also want to note the following two minimum wage bills, which NJBIA has long advocated for, are posted for consideration.
S3607 (Gopal) – Provides for a suspension of scheduled minimum wage increase for economic reasons.
S3608 (Gopal) –Establishes task force to study impact of minimum wage increase on businesses.
There are also two environmental bills of particular interest we expect movement on concerning electric vehicles and banning single-use plastic containers and bags.
S4179 (Smith) – "Plastic Container Recycling Enhancement Act."
S1975 (Smith) – Establishes State goals for adoption of plug-in electric vehicles and electric vehicle charging infrastructure; directs DEP and various other State agencies to develop programs to achieve those goals.
A full list of bills posted can be found here.