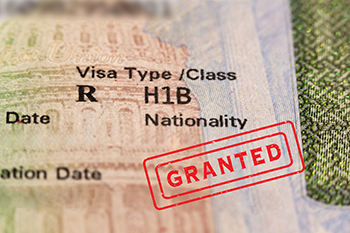 Connell Foley attorneys recently updated NJBIA members on the status of some of the hundreds of changes made since 2017 to federal immigration rules, including the H-1B visa program, and how it impacts U.S. employers and their hiring practices.  
Neil Dornbaum and Kathleen Peregoy, the co-chairs of Connell Foley's Immigration Practice Group, spoke Feb. 4 at an online meeting of the NJBIA Human Resource Council about rules finalized during the Trump administration, including some whose scheduled implementation date has been delayed by the Biden administration. 
The Trump administration made over 400 significant changes to immigration rules over the past four years and the coronavirus pandemic in 2020 "supersized many of these immigration policies," Dornbaum said.  
"It really gave the (Trump) administration an opening in the name of public health and the concern for the growing economic crisis to finish off those last items that the administration had not been able to achieve," Dornbaum said.  
"Those include the suspension of visas to certain categories of both immigrants and nonimmigrants, effectively ending the asylum at the southern border, attacking the F-1 foreign student category … and implementing restrictive policies on the H-1B program," Dornbaum said, referring to the program that allows U.S. businesses to temporarily employ foreign workers in specialty occupations. 
Although some Trump administration's policies are likely to remain in effect for the foreseeable future, the Biden administration has used executive orders to make some changes, including delaying the Trump administration rule to replace the H-1B visa selection lottery with a wage-based allocation system.  
The rule was finalized in the waning days of the Trump administration and would have prioritized the highest paid foreign professionals in the H-1B program temporary visa lottery, making it more difficult to for small and mid-sized companies to hire the workers they need in 2021, particularly in the STEM field. 
The delay of the rule's implementation until Dec. 31 means that the existing lottery system will remain in place for this year's H-1B cap season that starts next month. 
"What's important to note is that as the Trump administration has done, the Biden administration is undoing with these executive orders," Peregoy said. "But what the effect is for this year with the H-1B cap coming up for March is that either everything has been suspended, it will be the subject of future rulemaking, or it's been rolled back. " 
To watch the entire online presentation, go here or click on the link below.