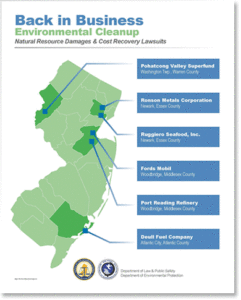 Declaring that New Jersey is "back in the enforcement business," Attorney General Gurbir S. Grewal announced state lawsuits against six companies seeking to recover damages for the cost of cleanups and, in three of those cases, seeking Natural Resources Damages (NRDs).
"This is the largest single-day environmental enforcement action in New Jersey in at least a decade," Grewal said. "Today is just the beginning. We are going to hold polluters accountable – no matter how big, no matter how powerful, no matter how long they've been getting away with it."
NRD cases involve claims for the loss to the value and use of natural resources, including surface and ground water, sediments, and wetlands.  The others represent efforts by the State of New Jersey to recover taxpayer money that was spent addressing contaminations. The six companies have been deemed responsible for the pollution.
Officials also made clear that they expect more enforcement actions in the future.
"For years, companies have failed to act responsibly, endangering the health of New Jersey and its citizens," said Acting Governor Sheila Oliver. "Today we are sending a clear message that we will do everything in our power to hold these companies accountable and protect New Jerseyans."
NJBIA President and CEO Michele Siekerka, however,  warned of the impacts of the state going after unwitting businesses without attempting to resolve issues through compliance.
"We feel that businesses need to be good environmental stewards, and enforcement should be used for egregious bad actors," Siekerka said. "But overzealous enforcement or looking for 'gotchas' in a morass of sometimes complex regulations can cause unnecessary burdens on well-intentioned companies that are already challenged to keep up with the high-cost of doing business in the state.
"In those cases, it's important that environmental regulators provide the option of compliance assistance to help allow for practical and timely resolutions to issues, rather than inhibiting the growth of New Jersey's job creators," she said.
Read the Attorney General's press release here.