Democratic leaders delivered a compromise on the controversial proposal to increase New Jersey's minimum wage to $15 an hour.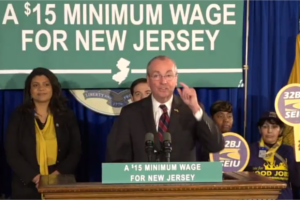 In an announcement late today, Gov. Phil Murphy, Senate President Steve Sweeney, and Assembly Speaker Craig Coughlin said they have an agreement to raise wages for over 1 million workers and promote "broad-based economic growth."
According to their announcement, the base minimum wage for New Jersey workers would increase to $10/hour on July 1, 2019. By Jan. 1, 2020, the statewide minimum wage would increase to $11/hour, and then would increase by $1/hour every Jan. 1 until it reaches $15/hour on Jan. 1, 2024.
Several categories of workers will reach the $15 an hour wage later. Seasonal workers and employees at small businesses of five workers or less would reach $15/hour by Jan. 1, 2026.
"No one working a full-time join should ever live in poverty," Murphy said in a joint written statement with Sweeney and Coughlin. "Putting the minimum wage on a clear and responsible path to $15/hour is good for workers, good for our businesses, and good for our economy."
Read the leaders' full statement here.
NJBIA's President and CEO Michele Siekerka responded: "Today's announcement is another hit to small businesses who are absorbing cumulative costs in the form of new mandates, more subsidies for energy delivery and increased taxes as a means to balance the state budget.
"Most small business owners pay what they can afford for their workers. Now that it's a mandate, it is inevitable that some of those with the smallest of profit margins will struggle, stagnate or simply fail."
Read Siekerka's full statement here.