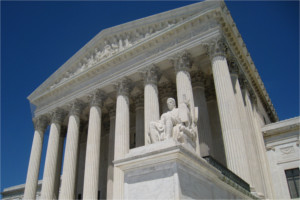 The U.S. Supreme Court will begin its new term Oct. 1 with an arbitration case that could be of big importance to businesses of all sizes. The high court will hear arguments Oct. 29 on whether the Federal Arbitration Act allows individuals to pursue arbitration as a class (like a class action lawsuit).
"The Supreme Court's decision will affect the rights of employees and employers who have entered into arbitration agreements that are silent on class arbitration," attorneys for Jackson Lewis wrote in an article published Monday on the law firm's website.
The case arose from a phishing attack where a third party convinced a Lamps Plus employee to send them copies of W-2 forms, compromising the workers' private information.  Employee Frank Varela tried to file a class action case in California, alleging that such a data breach had broken various state laws. The company wanted the courts to tell Varela to submit to individual arbitration, but the courts said the language in the arbitration agreement he signed provided for arbitration as a class.
Arbitration agreements generally use the same language as the one signed by Lamps Plus and its employees, so the court's decision could affect businesses nationwide.
"The arbitration clause at issue in this case is silent on whether workers who signed it can pursue their claims through class arbitration," attorneys Collin O'Connor Udell and Nadine Abrahams write. "A divided 9th Circuit panel had inferred mutual assent to class arbitration from such standard language as the parties' agreement that "arbitration shall be in lieu of any and all lawsuits or other civil legal proceedings."