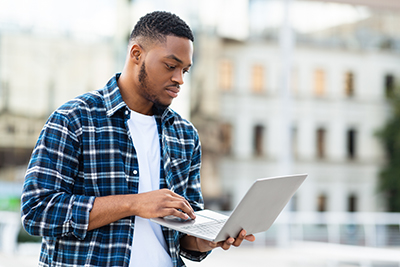 AT&T and Cricket Wireless customers can receive home internet or broadband service for little or even no cost if they take advantage of the Federal Communications Commission's Emergency Broadband Benefit.
The Emergency Broadband Benefit (EBB) is a temporary $3.2 billion program established by Congress to help people struggling to afford internet service during the COVID-19 pandemic. The benefit is intended to ensure eligible households can connect to jobs, critical healthcare services, virtual classrooms, and more.
Under the EBB program, qualifying customers can temporarily receive a benefit of up to $50 a month. This means eligible new and existing customers on an AT&T internet plan with speeds of up to 300Mbps would pay $5 a month or less.
AT&T will begin accepting EBB customers shortly after the FCC launches the $3.2 billion EBB program on May 12. For a complete FCC list of all New Jersey internet providers that are participating the in the EBB program, go here.
"The pandemic proved that all Americans need reliable broadband connections for everything from applying for jobs, to working at home, to participating in school," said AT&T Communications CEO Jeff McElfresh.
"We are eager to step up and work hand-in-hand with the federal government to provide relief to customers while helping to bridge the digital divide. We and others will also continue to work with Congress to create long-term sustainable solutions to help low-income families pay for broadband long after the program ends."
To participate, eligible customers must first apply and be approved for the EBB by the federal government at getemergencybroadban.org beginning on May 12.  Generally, customers are eligible if they meet any one of these criteria:
They are enrolled in the FCC's Lifeline program
They are enrolled in the national school lunch program
Have received a Pell Grant this year
Have experienced a significant loss of income during the pandemic
Have household income that is 135% of the federal poverty guidelines
Complete details on the federal eligibility criteria can be found here.