Senate President Stephen Sweeney says we need to begin making the big fixes to New Jersey's state finances now, because the problem will only get more expensive if we don't.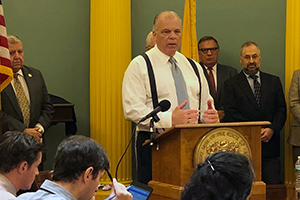 In an op-ed published by the Asbury Park Press, Sweeney points out that there are answers. He created the Economic and Fiscal Policy Workgroup made up of economists, academics, accountants and public finance experts last year, which put together a comprehensive report to tackle the structural deficits in the state's public employee pension and benefits systems.
"Now it is up to all of us — as legislators, citizens, taxpayers, business executives and union leaders — to make sure that its balanced, common-sense solutions are implemented before the hole gets any deeper," Sweeney writes.
As the state prepares for debate of the FY 2020 budget, Sweeney points out that on its current path, New Jersey will face a $2 billion deficit in FY 2021 just to cover the ongoing costs of pensions, benefits and normal inflationary budget growth. That deficit will grow to $2.8 billion the year after that and $4 billion in fiscal year 2023, he says.
Sweeney has pledged not to raise taxes this year, but as an example of how big the deficit will become, he points out that an across-the-board 25 percent income tax increase would be needed to cover it in FY 2023, if nothing else is done.
"We cannot wait any longer to restore fiscal sanity, enhance our economic competitiveness and make New Jersey more affordable for all of our residents," the Senate President concludes. "That's why we are developing legislation to implement the most critical recommendations this spring and will be pushing them as part of the budget process this spring."