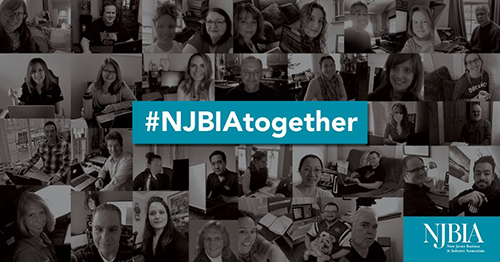 As New Jersey businesses face unprecedented challenges brought on by the coronavirus pandemic, NJBIA is highlighting some of the unique and uplifting ways NJBIA members are responding across the state. Share your good news story with us on social media at #NJBIAtogether or email us at communications@njbia.org.
---
HOPE Sheds Light Donates Face Coverings to Front-line Workers
The Toms-River-based nonprofit HOPE Sheds Light recently delivered 150 custom cloth face coverings to front-line workers providing essential services during the COVID-19 pandemic.
HOPE Sheds Light, a family-focused nonprofit offering education, resources and support to those impacted by addiction, created a program that donated a free cloth face coverings to essential workers for every one purchased by a member of the public. A supply of 300 face coverings was gone within two hours, with 150 sold and 150 donated.
"The response to this initiative was overwhelming," CEO Pamela Capaci said. Face coverings were donated to The Arc Ocean County Chapter, Ocean Mental Health, 21 Plus, Inc., and ShopRite pharmacy staff in Lacey Township, she said.
"This is the least we could do to show our front-line workers how much we support their efforts in providing critical services during these unprecedented times," Capaci said.
L'Oréal USA Gives Back to Support COVID-19 Recover Efforts
L'Oréal USA has announced a multi-faceted initiative to support Americans during the COVID-19 outbreak and recovery, including the donation of protective masks from its operations facilities in North Little Rock, Arkansas, and Franklin, New Jersey, to local hospital systems in each surrounding community.
L'Oréal's production facilities are also producing alcohol-based hand sanitizer free of charge for its employees, partners, and healthcare professionals working on the front lines of this emergency, according to a recent L'Oréal USA news release detailing COVID-19 relief efforts in the U.S. and Europe.
Other initiatives include a $250,000 donation to the U.S. hunger relief organization Feeding America providing emergency support for its COVID-19 Response Fund, as well as the donation of over $1 million in personal care products, including cleansers and moisturizers, to the nonprofit organization Feed the Children.
To help small businesses, L'Oréal USA has announced it is freezing the payments of very small and small-sized enterprises in its distribution network, including hair salons, until their businesses are able to reopen.
"I know I speak for all of my colleagues when I say that we at L'Oréal USA feel a deep responsibility to do our part to help address this crisis in the many communities in which we live and work," said Stéphane Rinderknech, president and CEO of L'Oréal USA, and executive vice president, North America.