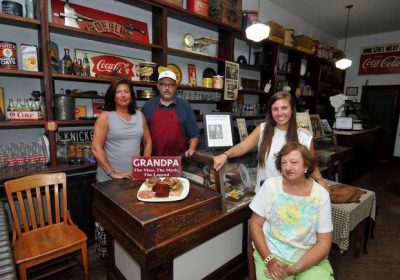 If you are a connoisseur of meats, you should take a trip to Roebling, New Jersey and make a stop at NJBIA member Szucs Meat Market, a fourth-generation family-owned butcher shop and specialty grocery store that has sold Hungarian delicacies for 100 years!
It all started with the first generation owners, Josephine "Peppie" Szucs and John Szucs, who were followed by Josephine Szucs Nolan and Thomas E. Nolan.  From there, Denise Groze and John Groze became the third generation to lead the business and today it's Kelly Groze, who is a fourth generation owner.
Some of the Hungarian specialties they offer include kolbasz, which are cooked sausages that are usually smoked, as well as szalonna, which is back bacon made of smoked pork fat with the rind. All of the meats are prepared on the property and everything is gluten-free and all-natural. They also offer many traditional Hungarian treats during Holiday Seasons.
Testament to their scrumptious offerings and stellar reputation was being featured on the Cooking Channel's TV show, "My Grandmother's Ravioli," hosted by Mo Rocca, in 2015.  The camera crew was on-site during the store's regular hours and was able to capture what life is truly like at the shop.  The producers selected their store because of the positive word-of-mouth they heard about and the genuine, old-school, small town feel.  Customers surely appreciate the nostalgic atmosphere, and while the original meat counter is no longer used, it is still there—repurposed as a display case where you'll find items of historical interest from the shop as well as the town of Roebling.
They have a very loyal following and quite a lot of praise on their Facebook page.  For example, one follower shared, "It was like travelling back in time. The personalized customer service was the best I have ever seen or experienced."  Another contributed with, "Christmas, New Years and Easter would not be the same without the smell and the taste of that great Kolbas! Born and raised on it! Keep on doing what you're doing."
It is that kind of quality and service that has enabled Szucs to not just compete with upscale supermarkets and other larger competitors, but to thrive. One hundred years is a monumental achievement in itself as only three percent of family businesses in the U.S. make it to the fourth generation, and even more impressive when you consider the competition they faced.
Congratulations for more than a century of success as a family-owned business and I wouldn't be the least bit surprised if one day a fifth generation family owner emerges and further success follows.
Szucs Meat Market is just one of 20,000 companies that comprise NJBIA's membership, which is very diverse with representation from an amazingly large and wide spectrum of fields, industries and professions. Look for more unique stories about NJBIA members in future issues of "Beyond 10 West Lafayette," NJBIA's membership blog.