How To Stop Back Pain From Affecting Work Productivity
July 29, 2020 @ 1:00 pm

-

2:00 pm

Free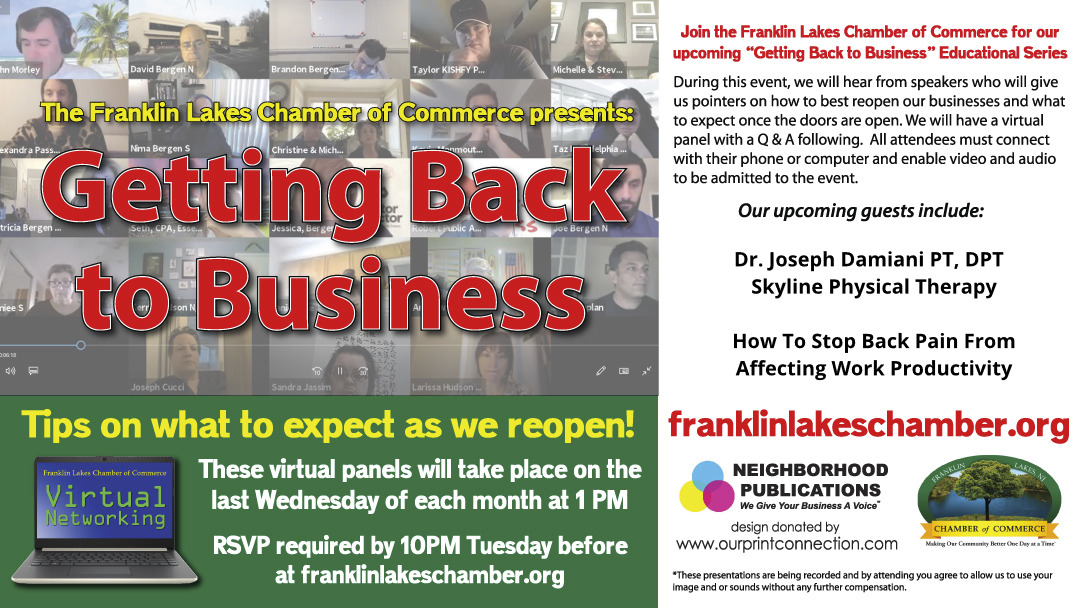 Join The Franklin Lakes Chamber for another "Getting back to business" series educational seminar featuring:
Dr. Joseph Damiani PT, DPT from Skyline Physical Therapy in Wyckoff, NJ who will educating us about a very
interesting topic: Dr. Joseph Damiani PT, DPT something that many are facing during COVID19 but applies
any other times as well.
RSVP is required and then you will get your private event link within 6 hours of the event.
Reasons to attend event:
-Did you know back pain is one of the commonest causes of disability in the working population?
-Learn the 3 things your staff may be doing wrong while working that is causing back pain or setting you up for lost revenue!
-Do you have difficulty doing your job the way you used to as a result of back pain or sciatica?
-Do you fear you will have to limit your lifestyle significantly due to progressively worsening lower back pain?
-Did you know back pain is normal? 50-80% of the population experiences it at one point in their life.
-Do you feel like you've tried everything to get rid of back or leg pain and you're ready to give up?
-Learn 5 common reasons why most people suffer from back pain for way too long.
-Learn the 'Big 2' actual causes lower back pain and sciatica.
-Learn the 6 Things You Can Do To Get Rid Of Your Lower Back Pain or Sciatica.
-Do you feel like your back pain or sciatica came out of nowhere? Learn why it actually didn't.
-Do your workers suffer from back pain…affecting productivity?
-If you do heavy lifting or repetitive movements part of your job, learn these strategies to prevent back pain.
-Are you scared your career will suffer due to your back pain?
-Do you worry that back pain will set back your staff hurting your bottom line?
-Do you need a healthier staff to ensure better productivity?