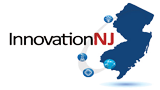 NJ Ranks 7th in Business R&D Companies reported nearly $300 billion in self-funded and self-performed domestic R&D in 2015, according to recent data from the National Science Foundation's Business, with New Jersey coming in  seventh with $11.6 billion. Read more in this week's Innovation NJ update.
Collaborative Environment, Networking Opportunities Attract Rutgers University Spinoff Bright Cloud International to CCIT Stroke victims, dementia sufferers, and patients who have sustained traumatic brain injuries can now incorporate virtual reality games into their rehabilitation therapy, thanks to technology developed by Bright Cloud International (BCI) Corp. The Rutgers University spinoff moved its operations into the New Jersey Economic Development Authority's (EDA's) Commercialization Center for Innovative Technologies (CCIT) earlier this month, expanding its footprint in the Garden State. CCIT, located in North Brunswick, is New Jersey's leading life sciences incubator.
Useful Stats: Business R&D Intensity by State Across the country, companies reported nearly $300 billion in self-funded and self-performed domestic R&D in 2015, according to recent data from the National Science Foundation's Business R&D and Innovation Survey (BRDIS), with nearly one-third of this total ($95 billion) coming from California. Business in Wyoming, Washington D.C., and Utah reported the greatest increase in self-funded and self-performed R&D from 2010 to 2015.
Delran STEM Alliance Shares Students' Work The school district showed off its recent science and technology initiatives and shared plans for the future on Friday during its STEM Crawl. During the multi-school tour, faculty shared students' projects with industry, education and policy-focused stakeholders of the Delran STEM Ecosystem Alliance, which works to provide students with science, technology, engineering and mathematics skills and exposure to STEM careers. "It is about giving students an opportunity to showcase a little bit of what they're learning," said Kari McGann, the lead for the alliance. "But the STEM ecosystem crawl is more about providing information to others about what it is that New Jersey is trying to do with the workforce."
NJIT to Make a Splash With Community Outreach Event Hundreds of high school students from Newark and around the state will visit New Jersey Institute of Technology (NJIT) March 24 for NJIT Splash, a one-day enrichment program taught by NJIT students.
Rowan Hosts First Faculty Research Day Rowan University's Division of University Research will showcase the work of more than 80 faculty members during the institution's first Faculty Research Day on Wednesday, March 28, from 9 a.m. to 2:15 p.m. in the Chamberlain Student Center on the Glassboro campus. Designed to highlight research being conducted on the Glassboro and Camden campuses and at Cooper Medical School of Rowan University, the School of Osteopathic Medicine and the South Jersey Technology Park, the day will feature research by faculty, staff, physicians, students and partners. During breakfast from 9 a.m. to 10 a.m., Dr. Ankur Patel, head of the Inspira Health Network LIFE program for senior citizens, will give the keynote address.
Murphy Announces Vision for Innovation Hub in New Brunswick
Gov. Phil Murphy this week outlined his vision for "The Hub", a pivotal redevelopment site in downtown New Brunswick that will support New Jersey's economic future as the state's home for research and startup incubation. The site, owned by the city of New Brunswick and managed by DevCo, is approved for up to 4 million square feet of commercial development that can complement the recent residential, retail and entertainment growth and development in New Brunswick. The site, which will be adjacent to the New Brunswick train station, is close to existing corporate, medical and academic research activity and extraordinary public transportation assets.
How to Pitch Your Startup to a Venture Capitalist Before the first meeting with a potential investor, the entrepreneur should be able to sharply define the company's business model and have the right team in place. That means doing the required homework and answering important questions: Is this a lifestyle business? Is it a cash-producing business? What's the short-term vision? What's the long-term goal? Could the business be worth $1 billion someday?
NJII Introduces Immunotherapy Training For Biopharma Companies
The New Jersey Innovation Institute has launched a training program for biopharmaceutical companies to study new immunotherapies, such as CAR-T cell therapy. Immunotherapy generally is a treatment in which cells in the human body are recoded and injected back into a patient in order to train the patient's immune system to fight various diseases such as cancer. Cancer centers such as Hackensack Meridian Health's John Theurer Cancer Center and Memorial Sloan Kettering, and pharmaceutical giants including Celgene and Johnson & Johnson have made big bets on the treatment.
Advancing Innovation, Competition, and Access for Biologics through Patent Policy
When: Wednesday, April 4, 10 a.m. – 11:30 a.m.
Where: Bipartisan Policy Center, 1225 Eye Street NW, Suite 1000, Washington, DC
Value of Innovation in Medical Devices (Featuring Scott Whitaker)
When: Monday, April 9, 3:30 p.m. – 7:30 p.m.
Where: Rutgers University Easton Auditorium, 101 Bevier Road, Piscataway
NJTC's VENTURE CONFERENCE
When: Thursday, April 12, 2 p.m. – 6 p.m.
Where: Harborside Atrium, Jersey City
Career Conference: Putting Theory and Research into Practice
When: Friday, April 13, 9 a.m. – 3 p.m.
Where: Middlesex County College, Edison