More Americans said they think the economy is getting better in July, boosting Gallup's Economic Confidence Index seven points over June's numbers. The index stands at a very healthy +29, near the highest ratings over the last year and a half.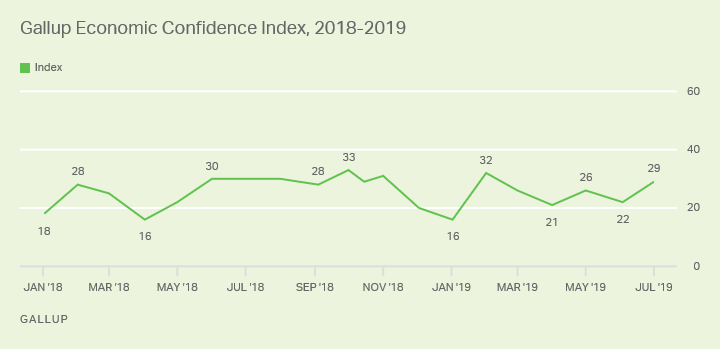 "Americans' confidence in the economy may have received a boost from a strong June jobs report delivered by the U.S. Department of Labor midway through Gallup's polling period of July 1-12," Gallup writer Justin McCarthy noted. "Additionally, the month of June saw massive gains in the U.S. stock market, with the Dow Jones Industrial Average, the S&P 500 and the Nasdaq Composite all reaching new highs in early July. The Dow cracked the 27,000 mark for the first time in history just before the end of Gallup's polling period."
According to its analysis, the boost seems to come from an increase in those who think the economy is getting better, while the ratings of current economic conditions remain solid. (The index is an average of two components: current economic conditions and whether the economy is getting better or worse.)
"A majority, 54%, now perceive the economy is improving, up from 49% last month," McCarthy wrote. "Conversely, there has been an eight-percentage-point decline, from 45% to 37%, in the percentage saying it is getting worse."
The index has regularly scored in the high 20s and even reached into the 30s since in the latter half of 2018. Before that, however, it had not reached that level since the end of the dot-com boom in the early 2000s.