The bipartisan Legislative Manufacturing Caucus met today at the County College of Morris to discuss education and technical training needs in New Jersey, part of the development of a proposed bond issue for next year's ballot.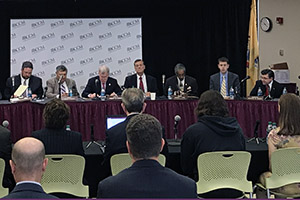 "The bond issue would be a big step in our much-needed efforts to increase the capacity of our vocational-technical schools to link students and our New Jersey manufacturing companies that are looking for skilled employees," said Michael Wallace, Director of Employment & Labor Policy and Federal Affairs at NJBIA, who was on hand at today's meeting.
"Our vocational-technical schools had to turn away more than 17,000 qualified applicants in 2017, despite a shortage of technically skilled employees in New Jersey. So we support this funding increase to bring about opportunity to develop a more skilled workforce."
A vocational-technical and job training bond issue was first proposed by Senate President Steve Sweeney in August. Part of the meeting mission today was to fine-tune a needs assessment to better determine how much money would need to be bonded to help cover the expansion of the state's network of 21 county vo-tech schools.
A ballot measure would need to be approved by both houses of the Legislature before being turned over to voters. Testimony today was provided by Robert Staudinger, President and CEO of the National Manufacturing Company and Co-Chair of NJBIA's Manufacturing Network, and Judy Savage, Executive Director of the New Jersey Coalition of County Vocational Technical Schools, among others.
"Senate President Sweeney's proposal has already received widespread support from Democratic and Republican legislators, and from educators, business and labor leaders," said Senator Bob Gordon, chair of the caucus. "New Jersey's economic future depends on expanding partnerships between vocational-technical high schools, county colleges and four-year colleges that work closely with industry to provide the technical-skilled workers they need."
NJBIA had long advocated for the Legislative Manufacturing Caucus, which held its first meeting on Aug. 15. Manufacturing is a $44.5 billion industry that employs more than 240,000 workers in New Jersey. NJBIA estimates that 82 percent of the state's manufacturing GDP comes from the pharmaceuticals, machinery, computers and electronics, and food preparation sectors.