Expect to see more electric cars this June – not necessarily on the roadways, but in the state's update to the Energy Master Plan. That's because when it comes to reducing greenhouse gases, New Jersey is turning its focus from electricity generation to the transportation sector.
"Quite frankly, energy generation isn't our biggest problem when it comes to greenhouse gases," Department of Environmental Protection Assistant Commissioner Paul Baldauf told NJBIA's environment and energy policy committees recently. "It represents 16 percent of the greenhouse gases in New Jersey. Transportation is the problem."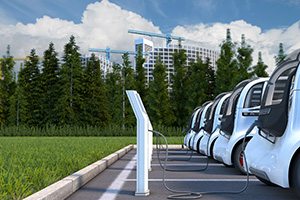 Transportation represents 42 to 46 percent of all of New Jersey's greenhouse gases, he said, so it makes sense for the state to target transportation. And reducing greenhouse gases is not some abstract idea: New Jersey is obligated to reduce the amount of greenhouse gases it generates to 80 percent of its 2006 level by 2050.
"On the trajectory we are on now, we are not going to make it," Baldauf said.
The Energy Master Plan (EMP), led by the Board of Public Utilities in consultation with DEP, is a complete look at where New Jersey gets its energy from, how it uses it, and what needs to change in the future.
A big part of that is going to be what Baldauf refers to as the electrification of the transportation sector.
At the same time, DEP is conducting its own inventory of New Jersey's greenhouse gases and working on a report on how it plans to meet the 2050 goal. Those efforts will dovetail with the EMP, Baldauf said. New Jersey will also start releasing some of the money it received from Volkswagen as part of a legal settlement over the company's emissions scandal. Baldauf expects a portion of those funds to be dedicated to electrification projects.
All of which adds up to transportation policy being the key to greenhouse gas reduction in the future.
"We need to make a big dent (in transportation-related emissions) if we're going to have any chance to meet the 2050 goals," Baldauf said.