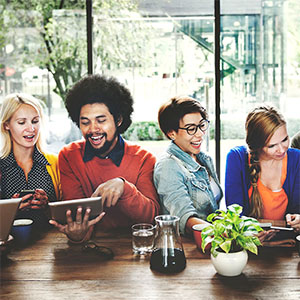 An "approach built on respect and an understanding of the workforce will win today's battle for talent," says Andy Hilger, president of Allegis Group. That means employers need to better engage millennials and Gen Z in ways that go beyond salary and benefits.
The talent-acquisition company Allegis Group issued a report entitled, "Employers, It's Time to Grow Up: Engaging the Millennial and Gen Z Workforce" based on hard data from its survey of HR professionals.
Millennials and Gen Zs are ethnically diverse populations, but corporate diversity and inclusions (D&I) programs are not doing enough to satisfy them. Only 12 percent of HR professionals believe their diversity and inclusion programs help them to attract millennial and Gen Z talent.
Similarly, research shows that most newer workers would take a pay cut to work for a more socially responsible company. However, only 13 percent of survey respondents believe their community social responsibility (CSR) efforts help them attract millennial and Gen-Z talent.
Allegis looks at three areas to address these shortcomings.
Use technology to give millennials and Gen Z workers more control over their careers
Align company values with those of millennials and Gen Zs
Establish and run D&I and CSR programs that have a real impact on millennial and Gen Z talent acquisition
To attract younger workers, companies need to align their benefits to what the younger generations are looking for.
In benefits, for example, millennial and Gen Z workers value things like career development and flexibility in work style as well as the traditional health insurance and paid vacation.
The report also suggests companies should get creative with their perks. One in particular is financial management. Millennials and Gen Zs have a lot of student loan debt and are facing higher housing prices than previous generations. In many cases, paying off a student loan is more important than contributing to their 401(k). As a result, providing resources to help workers better manage debt would make a company more attractive to a younger worker.