A Conversation with Steve Adubato and Michele Siekerka
Steve Adubato, PhD, creator and host of "Lessons in Leadership" airing on News 12+ and author of the book, "Lessons in Leadership," as well as the soon-to-be-published book, "Lessons in Leadership 2.0: The Tough Stuff," engages NJBIA CEO Michele Siekerka, in a highly relevant, interactive, and important virtual conversation about practical leadership lessons learned over the past several years.
Michele has joined Steve for numerous interviews on State of Affairs with Steve Adubato as well as Think Tank with Steve Adubato, which air on PBS stations WNET and NJ PBS. In this unique conversation between Michele and Steve, they will address the following:
What are the biggest leadership and communication lessons we've learned since the global pandemic began early in 2020?
How have NJ businesses pivoted, adapted, and innovated due to COVID-19?
What has changed and what will stay the same? (Hybrid workforce, the challenge of recruiting and retaining talented team members, remote meetings, work/life integration and wellness.)
What are the best practices in strategically planning for the future given so much disruption, uncertainty and vulnerability?
What are the leadership obstacles, as well as the opportunities, related to remote communication?
How can business leaders stay connected with their team members?
What role does innovation play in navigating the "new normal" for the future of business in NJ and the nation?
Steve Adubato, PhD
Author, "Lessons in Leadership Co-anchor, "Lessons in Leadership" on News 12+
Steve Adubato, Ph.D., enjoys a distinguished career as a broadcaster, author, syndicated columnist, university professor, lecturer and motivational speaker.  A trainer and coach in the areas of leadership and communication skills, Steve also served in the mid 1980's as New Jersey's youngest state legislator at the age of 26.
Steve currently anchors three television series produced by the Caucus Educational Corporation (CEC) — State of Affairs with Steve Adubato, the weekly, public policy series exploring the critical issues being addressed in the New Jersey Statehouse; One-on-One with Steve Adubato, the nightly series that bring viewers in-depth interviews with
some of the region's most compelling personalities, including artists, authors, academics, media personalities, health experts and sports icons; and Think Tank with Steve Adubato, featuring leaders, innovators and experts who tackle broader national policy issues impacting New Jersey and the tri-state region.
Steve has also anchored many high-profile television specials including exclusive specials with NJ Governor Phil Murphy as well as US Senators, Bob Menendez and Cory Booker.  Steve has been the recipient of four prestigious Emmy® Awards for his work on public television, including "Best Host," from the Mid-Atlantic Chapter of the National Academy of Television Arts and Sciences.
The CEC's series air on PBS stations Thirteen/WNET (the flagship station in New York), NJ PBS, WHYY and WHYY's Y2; on cable on News 12+; on radio on NPR stations WBGO and WQXR; and on digital platforms including Steve Adubato.org, NJ.com, YouTube, Thirteen.org, MyNJPBS.org the Thirteen Explore app, the NJ PBS app and in social media on Twitter, Facebook and Instagram.
As a media, leadership and communication expert, Dr. Adubato is a regular contributor to MetroFocus, a PBS series in the New York region and has appeared on NBC's TODAY Show, CNN, MSNBC and FOX5 NY as a media and public policy analyst. Steve has appeared on national radio, providing analysis and commentary on SiriusXM and has also done significant work on regional radio on NPR as well as 77WABC and AM970.  Steve is also the host of Steve Adubato's Lessons in Leadership with Co-host Mary Gamba, based on his latest book, Lessons in Leadership.
Dr. Adubato currently serves as a Buccino Leadership Institute Fellow at Seton Hall University teaching a master class in the spring 2022 semester. He has previously served as a distinguished visiting professor on the subject of leadership at New York University and has also lectured at the New Jersey Institute of Technology, the United States Military Academy at West Point as well as Seton Hall University. Dr. Adubato has published well over 1,000 articles on leadership and communication-related issues in a variety of publications.
A much sought-after motivational speaker through his firm Stand & Deliver, Steve has conducted communication and leadership workshops for a variety of clients in the corporate and non-profit sectors. Stand & Deliver is a dynamic, hands-on professional development and executive coaching program, which Steve created to help today's professionals reach their potential as leaders.
Through Stand & Deliver, Steve developed the "Lessons in Leadership" platform to provide leadership advice, tips and tools in the form of columns, videos, seminars, as well as his book, Lessons in Leadership. Columns and videos can be found through numerous print and online platforms including NJ Business Magazine, Meadowlands USA Magazine, Stand-Deliver.com and SteveAdubato.org, among others.
As a syndicated columnist, Steve also writes a monthly column for New Jersey Monthly magazine. He is the author of five books, including three focused on interpersonal, professional and crisis communication: Speak from the Heart, which was featured in Fortune Magazine, as well as Make the Connection and What Were They Thinking?  You Are the Brand, examines the brand strategies of over thirty individuals and companies, while Lessons in Leadership explores the connection between leadership and communication offering practical leadership tips and tools as well as powerful case studies from prominent leaders. His sixth book due to be released in 2022 is titled, Lessons in Leadership 2.0: What About the Tough Stuff? and will feature case studies and tips, tools and lessons on innovation learned during the global pandemic.
Steve has been named as one of New Jersey's "Power 100" – New Jersey's 100 most influential people – by InsiderNJ.com. He has also been named on the New Jersey Globe Power List as one of NJ's Most Powerful Personalities in Public Policy and Politics. In addition, New Jersey Monthly magazine named Steve one of the top five most powerful media figures in the state, as one of the "50 Most Interesting People in New Jersey," and as one of the "25 Most Influential People in New Jersey."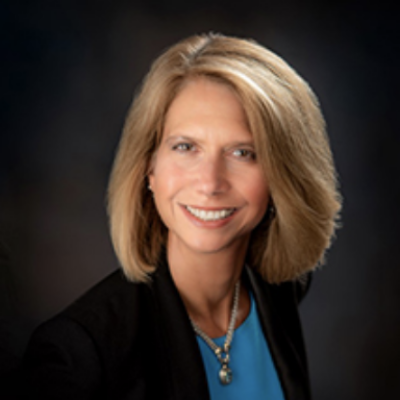 Michele N. Siekerka, Esq.
President & CEO, NJBIA
Michele N. Siekerka, Esq., President and CEO of the New Jersey Business & Industry Association, leads the nation's largest, most influential employers' organization, advocating on behalf of New Jersey's large and small businesses for policies that will make New Jersey more affordable and regionally competitive.
Being known as a collaborative leader, Siekerka is leading an NJBIA established coalition (New Jersey Business Coalition) comprised of more than 100 business and nonprofit associations across the state to tackle the tough economic and business challenges our state is facing during COVID 19.
Well versed on the 'boots on the ground" issues affecting our state's business community, Michele is often the "go to" resource for media and is sought after to share her expertise in public forums across the state.