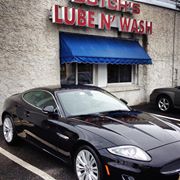 How many family-owned car wash businesses do you know that have been in existence for over 45 years?  Well, let me introduce you to one: Butch's Lube N' Wash, located in Red Bank. It's been an NJBIA member since 1991.
In 1970, Ernest "Ernie" Beattie purchased the car wash from Clyde Butcher, which is the origin of the company's name. Butcher had started the business  in 1957.  Beyond just the car wash, it featured a gas station and a mechanic shop. Ernie immediately made an investment in the newest car wash technology and very quickly word spread that that this was "the place" to take your car.
Ernie's son-in- law, Bill Siebert, came into the business in 1978 as a manager and became one of the  owners 1982. After Ernie's passing in 1984, Bill became the full owner of the business.
In 1995, Bill made a strategic decision to turn the mechanic shop into a full-service oil change facility and soon the "Lube" part of the business took off and combined with the car wash, provided solid synergy to grow. Bill's oldest son, Chuck, entered the business after graduating from Gettysburg College in 2001 and oversaw the revitalization of the detailing operation by offering more comprehensive automotive cleaning as well as adding minor repair services.
In 2007, Bill's son Brock came on board after graduating from Monmouth University, and he focused on providing more oil options and services to the newest vehicles on the market.
A business doesn't last 45 years without doing a lot right, and that's certainly the case here.  They keep current with the best equipment on the market, including using "closed-cell foam Neoglide material," which virtually eliminates the possibility of scratches and swirl marks.  They also use eco-friendly green chemicals to clean customer's vehicles and make use of solar panels to provide supplemental power to their facility, both of which reduce the impact on the environment. As shared on their website: "We believe clean cars should have a clean world to drive in."
Maybe the key to their long-term success is their mantra—quality, service and commitment. With that dedication, whether it's a car wash, oil change, detail work or small repair, customer satisfaction is sure to follow.
For more information about Butch's Lube N' Wash, visit their website or Facebook page, or if you're in the area, stop by and say hello to a fellow NJBIA-member.
Butch's Lube N' Wash is just one of 20,000 companies that comprise NJBIA's membership, which is very diverse with representation from an amazingly wide spectrum of fields, industries and professions. Look for more unique stories about NJBIA members in future issues of "Beyond 10 West Lafayette," NJBIA's membership blog.