The Division of Parks and Forestry will kick off 2020 with a variety of recreational opportunities on New Year's Day as a part of the annual America's State Parks' First Day Hikes program, the Department of Environmental Protection announced.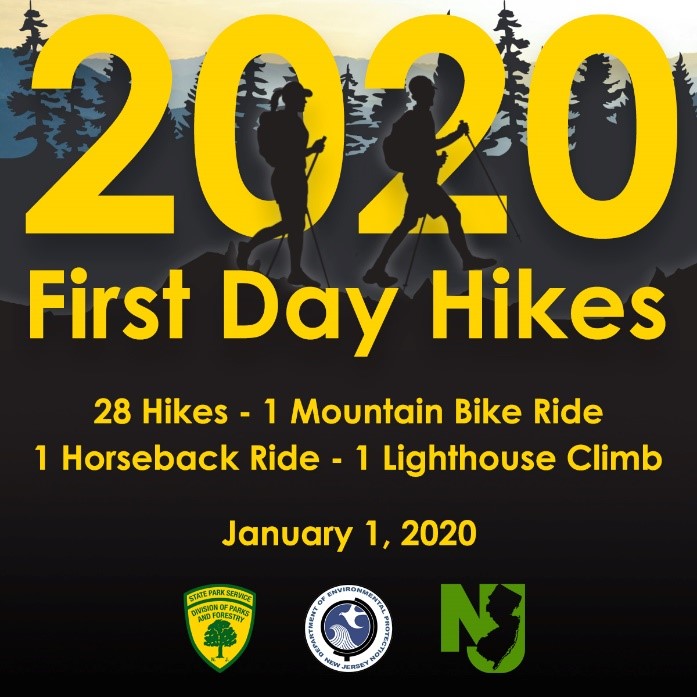 "New Jersey has much to offer at our parks, forests and historic sites," DEP Commissioner Catherine R. McCabe said. "Hiking is a great way to appreciate our natural resources, whether it is the trees that clean our air, the rare plant species that dot the landscape, or the beauty of birds and other wildlife that call our state home."
"There is no better way to step into the new year than in one of our state parks or forests on a first day hike," said Director of Parks and Forestry Olivia Glenn. "Whether you climb a lighthouse, go for a horseback ride, or hike six strenuous miles on the Appalachian Trail, there is a first day hike for every skillset and interest."
In total, the State Park Service is offering 28 hikes, a mountain bike ride, lighthouse climb and horseback ride.
In 2019, 1,795 hikers traveled 5,030 miles on First Day Hikes throughout New Jersey's vast system of trails in state parks, forests and historic sites.
NORTH
Hikes are scheduled at Liberty State Park in Jersey City, Hudson County; Ringwood State Park in Ringwood, Passaic County; High Point State Park in Sussex, Kittatinny Valley State Park in Newton, Stokes State Forest in Branchville, all in Sussex County; and Kittatinny Valley State Park in Blairstown, Warren County.
CENTRAL/COASTAL
Hikes are planned at Round Valley Recreation Area in Clinton Township and Spruce Run Recreation Area in Lebanon Township, both in Hunterdon County; Washington Crossing State Park in Washington's Crossing/Hopewell in Mercer County; Cheesequake State Park in Old Bridge, Middlesex County; Monmouth Battlefield State Park in Manalapan and Twin Lights Historic site in Highlands, both in Monmouth County; and Island Beach State Park in Berkeley, Bass River State Forest in Stafford and the Forest Resource Education Center in Jackson, all in Ocean County.
SOUTH
Hikes are set at Wharton State Forest in Mullica, Atlantic County; Rancocas State Park in Westampton and Wharton State Forest in Shamong and Washington townships, all in Burlington County; Belleplain State Forest in Woodbine Township, Cape May County; and Parvin State Park in Pittsgrove, Salem County.
All events are free. Some require preregistration, others do not. Some events also are weather-dependent. For a detailed list on event start times, how to dress, difficulty ratings and lengths of hike, age requirements, accessibility issues, whether dogs are permitted and whom to contact in case of inclement weather, visit www.njparksandforests.org/parks/first_day_hikes.html.
The State Park Service began participating in First Day Hikes after the program became a nationwide event in 2012. First Day Hikes began more than 20 years ago at the Blue Hills Reservation, a state park in Milton, Mass. The program was launched to promote healthy lifestyles and year-round recreation at state parks.
The DEP's Division of Parks and Forestry manages nearly 450,000 acres of land, including 40 state parks and forests.
To learn more about New Jersey's parks, forests and historic sites, visit: www.njparksandforests.org.
Like the New Jersey Division of Parks and Forestry page on Facebook at www.facebook.com/newjerseystateparks.
Follow the New Jersey State Park Service on Instagram @newjerseystateparks
Follow the DEP on Twitter @NewJerseyDEP.
###