NJBIA's own Jodi Grinwald is a patron of the arts, of sorts. But instead of supporting established musicians and dancers, she is working to create them.
Two years ago, she and her sister, Melissa, founded the Zzak G. Applaud Our Kids Foundation, which provides materials and scholarships so kids can access education in the creative arts. Recently, she appeared on Comcast Newsmakers to talk about the foundation and what it does.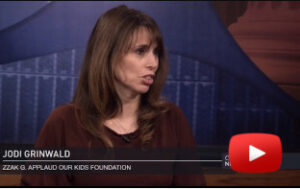 Dancing, musical instruments, acting and other creative disciplines are beyond the reach of many children because they or their families cannot afford lessons. The Applaud Our Kids Foundation pays 100% of the cost for kids from qualified families to take lessons for the full school year, and that includes buying instruments, dance shoes, or whatever else they need.
"It's so much more than the vocal lesson or the instrument lesson," Grinwald told Jill Horner, the show's host. "It really is about a connection to creativity."
Jodi and Melissa named the foundation after their father, who was in his mid-30s when he discovered he was an operatic tenor when he took his first singing lesson, the only one he could afford.
The foundation provides 100% funding for children living with financial barriers to take ongoing lessons in dance, acting, instrumental music, and vocal instruction at a local performing arts studio close to their home. If a child needs any of the necessary resources to be successful, like an instrument or dancewear, the foundation will work to find and provide all that is required.
Separately, Grinwald said being a part of a business association has provided benefits for the organization, even though it is not a for-profit business.
"We have found that being a part of membership organizations like the NJBIA has been invaluable to us as a non-profit," Grinwald said. "The networking opportunities and the connections we have made have truly helped us to grow as an organization."