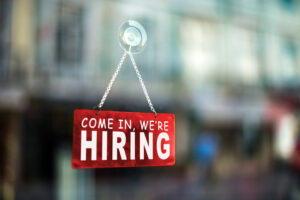 As a small business owner, you are used to wearing multiple hats. In a tight job market like this one, one of those hats is probably going to be for recruiting new talent to your operation.  But how do you recruit quality employees as an HR department of one?
Riia O'Donnell at HR Dive picked the brains of a handful of HR professionals to provide small and medium-sized businesses with some ideas.
"Those working solo must not only handle the standard sourcing and interviewing duties; they also must keep abreast of ever-changing legal requirements and be able to change priorities in reaction to market shifts," O'Donnell writes.
She covers the importance of networking, the pros and cons of outsourcing recruitment, and how to prioritize all your tasks.
"Today's labor market requires strategic recruiting efforts, so that's one task that even an HR department of one might want to retain, at least most of the time," she concludes.
"Certain duties just have such a high return on investment for hiring that they can't be ignored; from managing the company's brand to investing in tools that will streamline your recruiting efforts, the solo HR pro must prioritize the strategic aspects of recruiting."
Learn more about the legal pitfalls of recruitment at