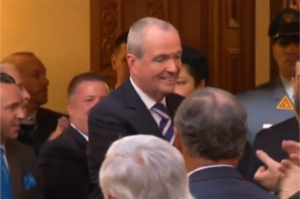 Gov. Phil Murphy today pledged to replace the current economic development incentive program with one that is smart and targeted, using the savings to invest in education, infrastructure and the things that make the economy grow for everyone.
Delivering the State of the State address after his first full year in office, Murphy also promoted his offshore wind program, called for enactment of a $15-an-hour minimum wage, and urged legalization of recreational marijuana. He also outlined plans for improving NJ TRANSIT.
But the focus upfront was on economic incentive programs. He noted that incentives were one of the first issues he addressed a year ago after being sworn into office. He ordered the comptroller study, released just last week, which severely criticized the programs for lack of oversight and effectiveness.
"This is about wasted money, phantom jobs, squandered opportunities, and misplaced priorities," he said. "This is about a failed status quo and a broken system."
In response, NJBIA President and CEO Michele Siekerka said while incentive programs should be transparent and appropriately monitored, New Jersey's problems run much deeper.
"New Jersey is in a fiscal crisis and needs structural reform, first and foremost. It is critical that we focus on controlling state spending, instead of increasing costs on our job creators," Siekerka said. "Unsustainable spending hampers the state's ability to make investments in infrastructure, higher education and economic development – all of which are essential to attracting and retaining businesses."
See NJBIA's full statement here.
On the $15-an-hour minimum wage, Murphy said he has made great progress in negotiations with Senate President Stephen Sweeney and Assembly Speaker Craig Coughlin and that "we will get this done" in 2019. No new details were offered, only that he wanted "a clear and responsible path to $15 an hour."