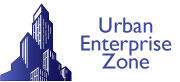 Gov. Phil Murphy on Wednesday signed into law legislation, supported by NJBIA, which extends the expiration date of New Jersey's Urban Enterprise Zones (UEZ)  through 2023 and reinstates the former UEZs in Bridgeton, Camden, Newark, Plainfield and Trenton.
The law also requires the Department of Community Affairs (DCA) to conduct a comprehensive analysis of the program and to issue a report on its findings to the Legislature.
"The UEZ program has helped the downtown areas of some of our most economically challenged cities and many of our small businesses continue to utilize and rely on the program," said NJBIA President & CEO Michele N. Siekerka, Esq. "We're also encouraged that this legislation requires the Department of Community Affairs to conduct a comprehensive analysis of the program. The results of that study will hopefully lead to more efficiencies or improvements to the program."
New Jersey's UEZ program was enacted in 1983 to foster an economic climate that revitalizes designated urban communities and stimulates their growth by encouraging businesses to develop and create private sector jobs through public and private investment. Businesses in UEZs are allowed to charge half of the state's regular sales tax rate and receive incentives such as business-to-business tax exemptions, subsidies for unemployment insurance, and tax credits for hiring and investing.
"NJBIA has supported this legislation because it encourages businesses to either start up or continue in urban areas, where private sector job creation is so critical," Siekerka said. "NJBIA commends Governor Murphy and the bill's sponsors for stabilizing the UEZ program and helping Main Street businesses in our urban areas."
The legislation, S-846, was sponsored by Senators Shirley K. Turner, D-15,  and Nilsa Cruz-Perez, D-5. The Assembly sponsors were: Eliana Pintor Marin, D-29; Raj Mukherji, D-33; Reed Guscicora, D-15; Patricia Jones, D-5; and Shavonda Sumter, D-35.