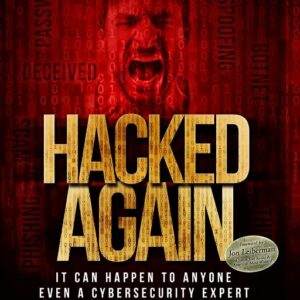 Scott Schober was the victim of a cybersecurity breach in 2012. Someone had hacked his businesses' debit account and racked up a series of fraudulent charges, which he caught in time to get a full refund. In 2013, at a different bank, the same thing happened, only that time the hacker(s) made $65,000 in bogus withdrawals.
Online fraud is not new or even rare in today's world, but for Schober, the experience was more than a little ironic.  His company, Berkeley Varitronics Systems, specializes in cybersecurity. So if a long-established expert in cybersecurity can get hacked—twice—how secure can the rest of us be?
Schober shared his experiences in a 2016 book called Hacked Again, where he walks readers through how the hackers got into his system, what businesses need to watch out for, and how they can keep their data and their revenues safe in an electronically connected world. Schober will share his expertise on cybersecurity as a panelist at NJBIA's Cybersecurity Summit April 21.
Schober believes that being in the cybersecurity business made him a target for hackers.
"I realized I was not just the typical consumer being targeted," Schober writes in the first chapter, "but that the hackers were now targeting both my company and me as a cybersecurity expert. This was personal."
Offering online safety tips and ways to beat the hackers painted a big target on his back, he explains later in the book. But make no mistake, everyone is vulnerable; attempted cybersecurity breaches are far more common than most people realize.
There were more than 1,000 data breaches in the U.S. last year, according to the digital marketing website DMR, and more than half of U.S. adults suffered some sort of cybersecurity incident between Dec. 1, 2015 and Dec. 1, 2016. Not surprisingly, the amount of money spent on cybersecurity is expected to increase substantially over the next four years.
Schober's book offers plenty of practical advice and does so from the perspective of someone who learned these lessons the hard way. (In fact, the first section of the book is entitled "Learning the Hard Way.") He candidly discusses how his business was nearly burned by a stolen credit card and how, in retrospect, he could have spotted the warnings that his "customer" was a fraud. He shares how he was able to tell that his social media accounts had been hacked, and even how his company's website could be subjected to a "disruption of service" attack.
What I cannot stop thinking about as I read through these accounts is the fact that the hackers were able to breach a company that is a recognized leader in wireless security. In short, if it can happen to Scott Schober, it can happen to any of us.
Don't let it happen to you. Signup for the Cybersecurity Summit today.