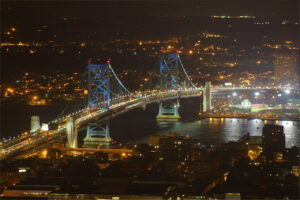 If the model for a successful economy is collaboration between businesses, government and education, then perhaps nowhere in New Jersey is there more potential for growth than South Jersey.
The key word there is potential.
Southern Jersey has seen a boom of sorts in education and healthcare business, and it could drive the regional economy for years to come, but only if New Jersey can figure out how to leverage this growth to create a healthy and sustainable economic ecosystem.
"We have been talking for years about the need for greater collaboration between business and higher education to create the type of high-tech businesses that provide good-paying jobs," said NJBIA President and CEO Michele Siekerka. "This type of collaboration is happening right now. If we're smart about the policies we enact, this economic paradigm can serve the region well for decades."
NJBIA is starting the conversation Oct. 31 about what New Jersey should do to get the most of the assets in and around Camden with an event called EDS & MEDS: The Expanding South Jersey Ecosystem.
Cooper University Health Care, Lourdes Health System, Rowan University, Rutgers-Camden, Virtua, and Cooper Medical School of Rowan University have seen their operations expand.
The area is already an important part of the regional economy.  According to the Bureau of Economic Analysis, the Philadelphia-Wilmington (DE)-Camden Metropolitan Area produced a gross domestic product of $445 million last year.
But South Jersey in general has lagged behind the rest of the state in other economic categories. The New Jersey Office of Research and Information, for instance, projects that South Jersey will add 36,500 jobs from 2014 to 2024, an increase of 4.2 percent.  While that's good, employment statewide is expected to increase by 6.5 percent during the same period.
The same analysis predicts that healthcare and social assistance is expected to be the region's job growth leader with an anticipated increase of 14,100 jobs or 11.7 percent. Given the growth of the healthcare industry here in the last few years, South Jersey is well positioned to take advantage of this trend.
Additionally, South Jersey higher education institutions are playing a more active role in the economy. At Rowan University, the South Jersey Technology Park (SJTP) is nearing capacity, with 20 companies, five research centers and a business incubator—all of which can tap into the university's resources for innovation projects and applied research, often working with Rowan interns and full-time employees.
"We all recognize the opportunity that South Jersey has right now to build something unique and lasting that will benefit the people of New Jersey for a long time," Siekerka said. "Time to get to work."