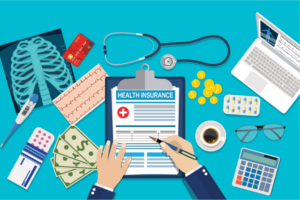 ANN ARBOR, MI— In April 2018, the health care sector added 24,400 new jobs, consistent with the 12-month average of 25,500 new jobs per month, but enough to propel the health share of total U.S. jobs to 10.76%, a new all-time high. Hospitals added 8,000 jobs in April, and ambulatory settings such as physician offices and home health added 16,900 new jobs.
While health job growth appears to have stabilized at around 2%, compared to 1.5% for non-health jobs, the share of health sector jobs continues its relentless upward trend, mirroring the growth in the health spending share of GDP. This data indicates that from the health sector perspective, the economy is roughly at full employment. Notably, this does not resolve the continuing tension over whether the U.S. economy is too reliant on the health sector for employment stability and growth.
Year-over-year health spending growth increased from 4.1% in May 2017 to 5.2% in March 2018. On a quarterly basis, Q1 2018 growth is 5.0%, compared to 4.6% in Q4 of 2017, 4.7% in Q3 of 2017, and 4.2% in Q2 of 2017. This modest acceleration has occurred in spite of declines in coverage that now extend into 2018.
The spending acceleration again has been led by hospitals, with spending growth at 4.1% in Q1 of 2018, compared to 2.8% in Q4 of 2018. Countering this trend, we see a decline in the growth of spending on prescription drugs, which at an annual rate of 3.4% in March is the lowest since December 2016. National health spending was 18.1% of GDP as of March, a rate that has held steady since April 2016, and revised data on potential GDP show this series to have reached 18.1% for the first time.
"It is concerning to see the growth rate in health spending move above 5% in the first quarter of 2018," says Altarum Fellow Dr. Charles Roehrig. While this is only a mild acceleration from the 4.6% growth in 2017, it comes even as health care coverage has declined. It also keeps health spending growth well above the 4.6% growth in GDP. Altarum's first quarter estimates will be revised next month to reflect the Advance QSS data to be released on May 18. We will be particularly interested to see if the very high 8.1% estimated growth in nursing home spending is confirmed."
In April 2018, the Health Care Price Index rose by 2.2% compared to the previous year, fractionally higher than in March, and the highest rate since January 2012. The driver was once again high hospital hospital price growth, especially for Medicare (4.6%)—the highest Medicare rate since November 2009, and for private hospital price growth (3.8%)—the highest rate since the private-only data series was created in June 2014.
While health care price growth has ramped up above 2% in recent months, it remains roughly in line with economy-wide inflation of just under 2% during this time.
Health Care Spending
At $3.62 trillion (seasonally adjusted annual rate), national health spending in March 2018 was 5.2% higher than it was in March 2017. Spending in March 2018, year over year, increased in all major categories. Spending on nursing home care grew the fastest, at 8.6%. Growth in spending on prescription drugs was the slowest, at 3.4%.