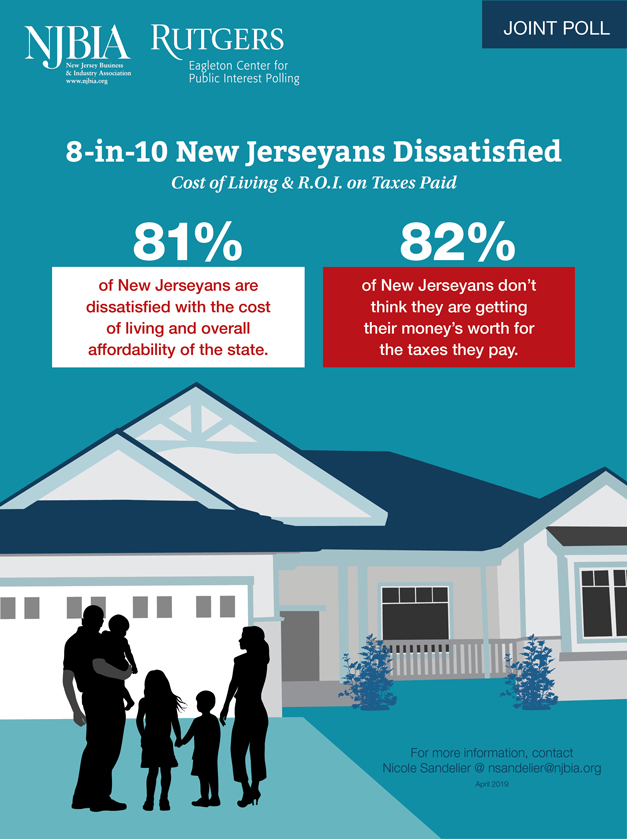 That New Jersey has high taxes isn't news, but for years, it has been dismissed by some policymakers.
Wednesday's Rutgers-Eagleton poll, done in conjunction with NJBIA, should put an end to such a lackadaisical attitude. It showed more than 80 percent of residents saying taxes are too high and they are not getting their money's worth in government services in return.
"Our overburdened residents and businesses are sounding the alarm that they have had enough and don't feel they're getting high value for what they pay," said NJBIA President and CEO Michele Siekerka.
"New Jerseyans across the board – Democrats and Republicans alike – continue to be upset with what it costs to live in this state, what the government is doing about it, and with the idea of any new taxes," said Ashley Koning, director of the Eagleton Polling.
Some policymakers are heeding the call.
"New Jersey has become so unaffordable, people are being forced to leave the state that they were born and raised in," said Assemblyman Anthony Bucco.
"The constant tax and spend policies of Trenton have to be reversed. If they're not, we'll go further and further down this dark hole," he said.
"Eighty-one percent of respondents said they are somewhat or very dissatisfied with their government's efforts to address the cost of living and affordability.  Not exactly a recipe to attract and keep jobs and families here," said U.S. Rep. Josh Gottheimer (D-NJ), as he announced plans to sponsor legislation reinstating full SALT tax deduction on the federal level.
"Eighty-two percent of New Jersey residents already believe that they're paying too much in taxes," said Assembly Republican Leader Jon Bramnick. "That's in direct opposition to the Murphy policy of raising taxes by billions of dollars.
"(There have been) 22 new taxes since the Murphy administration has come into office. Not one piece of legislation has addressed the affordability crisis."
Likewise, ignoring the results could have consequences as well.  The political team on The New York Observer noted, "This could spell bad news for Gov. Phil Murphy, who has defended raising multiple taxes in the state, claiming that residents won't mind paying more because they feel they are getting their money's worth in state services."
Released Wednesday, the poll showed:
81% percent of residents dissatisfied with how the state government is handling the cost of living and affordability;
78% are dissatisfied with how the state government is handling taxes;
57% unhappy with how the government is doing with the state budget; and
52% are dissatisfied with the business and employment opportunities here.