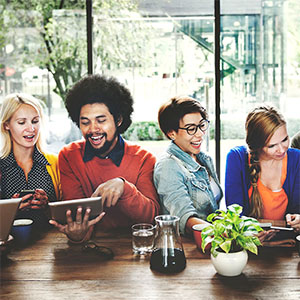 Organizations with cultures of high employee engagement exude energy and passion. The sense of caring about co-workers and customers is palpable. Employees collaborate. Staff and customers feel appreciated and valued.
By contrast, a culture of disengagement is also easy to spot. Employees fly out the door at 4:59 p.m. They pass the time playing games on their phones, isolate themselves in their cubicles, or exhibit a lack of creativity and initiative.
How do you measure employee engagement? Look at three factors:
Motivation:Are employees motivated to give their best? Or do they give minimal effort required to get things done?
Retention:Are employees committed to staying? Turnover is a critical indicator of employee engagement. Employees who believe in the organization and where it is headed are more likely to stay.
Referral:Will employees tell their friends that this organization is a great place to work? The best workplaces hire half of their new employees from personal references provided by staff.
Our data shows that in the general population, the level of employee engagement nationwide typically runs around 30 percent. That means about 70 percent of the workforce would rather be somewhere else, doing something else. Consequently, they fail to perform at their best. And so does the organization.
At "culture-aware" companies, organizations that focus on culture even if they haven't quite cracked the code yet, an average of 46 percent of employees are engaged.
And then there are Top Workplaces. These are standout organizations with employee engagement levels close to 60 percent.
At the best-of-the-best — the top 10 percent of Top Workplaces — employee engagement averages an impressive 86 percent. These are the organizations that have truly unlocked potential and are driving outstanding business results.
So how does employee engagement measure up at your company? Energage runs two Top Workplaces programs to recognize high-performing New Jersey employers. One program includes companies in northern and coastal New Jersey. The other recognizes companies in the Philadelphia area.
To nominate companies in New Jersey, go to this nomination page. To nominate companies in the Philadelphia area, go to this nominations page.
The Top Workplaces offers a free assessment through a simple, scientifically sound and anonymous employee feedback survey. The program recruits organizations, walks them through the survey, and creates the list of top-ranking companies.
Energage, founded in 2006, is a leader in organizational health research and SaaS-based HR tools. Energage has reached more than 17 million employees from 50,000+ organizations through its employee engagement platform, Top Workplaces program, and workplace improvement solutions.