Update: The House voted 385 to 41 in favor of ratification. Go here for the roll call.
The U.S. House of Representatives today completed debate on the new trade agreement between the U.S., Canada and Mexico, leaving only the final vote to approve ratification and send the treaty to the U.S. Senate for consideration.
The House is expected to approve the treaty when the roll call is done later this evening.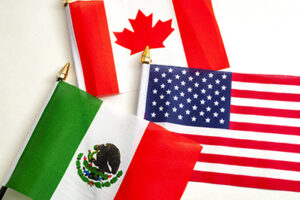 "This is a strong agreement that honors our promises for the people to give us bigger paychecks and make a difference for all people," House Speaker Nancy Pelosi said during the floor debate. "With all the respect in the world for our neighbors…our responsibility was to have a treaty that lifts all workers in our hemisphere."
"America is made for trade," added U.S. Rep. Kevin Brady (R-TX), ranking member of the Ways and Means Committee, "and with our new strong economy, we need new customers all around the world. That's what this treaty agreement does."
The new agreement is seen as a benefit to export states like New Jersey, whose companies exported more than $35 billion worth of goods and services in 2018, representing 3.2% of total U.S. exports. Not surprisingly, most of the state's exports (about $10 billion) went to either Canada or Mexico, according to the U.S. Census Bureau.
The United States-Mexico-Canada Agreement (USMCA) would replace NAFTA, which has been in place since 1994. That agreement eliminated most tariffs and other trade barriers involving the United States, Mexico and Canada, but President Donald Trump, labor unions and many Democratic lawmakers have criticized that treaty as a job killer for the U.S., saying it encouraged factories to move south of the border to capitalize on low-wage Mexican workers.
Most of the provisions of NAFTA remain, but the USMCA includes some key differences on resolving disputes between the countries and standards for environment and labor regulation and enforcement. (The Congressional Research Service is the source for the following information.)
For instance, the new agreement requires 75% of automobile parts to be manufactured in North America (up from 62.5% in NAFTA), 70% of the steel would have to come from North America, and auto workers would have to make at least $16 an hour.
The treaty would eliminate investor-state dispute settlement (ISDS) for Canada but maintain ISDS between the United States and Mexico for certain claimants. The state-to-state mechanism used in most disputes under NAFTA is maintained.
On intellectual property, the USMCA would extend the term for copyrights to 70 years and add criminal and civil penalties for trade secret theft, including by state-owned enterprises.
The treaty also addresses digital trade, which was not included in NAFTA. The USMCA would prohibit customs duties on electronically transmitted products and place limits on source code disclosure requirements. USMCA contains broad provisions on cross-border data flows and restrictions on data localization requirements.