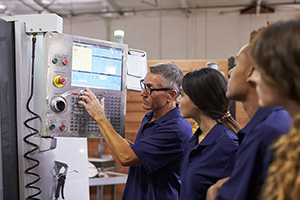 The chronic labor shortage has companies nationwide finding new ways to get the employees they need, and apprenticeship programs have been playing a starring role in the process.  At HR Dive website, writer Riia O'Donnell looks how one company has turned professional apprenticeships into a new pipeline of trained workers.
"(The professional services company) Accenture, for example, initiated apprenticeship programs in Chicago and Detroit to bring new hires into the fold, allowing students the opportunity to prepare for specific, high-demand jobs in the company — including work within the IT group and in roles that include cybersecurity, data analytics and cloud migration," she explains.
The apprenticeships run three to 12 months, she writes, mixing formal learning, on-the-job training and coaching, with apprentices getting an opportunity to work full time with the company when the program is over. A majority of them are converted into full-time hires.
"Accenture is helping other companies, including their clients, create professional apprenticeship programs based on their own best practices," O' Donnell writes.
In New Jersey, the Murphy administration has made apprenticeships a cornerstone of its workforce development policy. The state Department of Labor and Workforce Development has launched the Apprenticeship Network, and just last week, the governor announced $3 million in grants available to employers for apprenticeship programs.
New Jersey is hardly alone, however.  More than 23,000 apprenticeship programs are underway nationwide. In FY 2018 alone, more than 238,000 individuals nationwide entered the apprenticeship system, according to the U.S. Bureau of Labor Statistics.