JBA Architecture, boutique architecture and consulting firm headquartered in New Jersey, has been honored with the Outstanding Designs: Renovation/Modernization Award for their best-in class renovation of the Historic Long Branch High School. Public support for this project was virtually unanimous with the passage of the bond referendum. The base design included use of the facility by local recreation and community groups and space for evening adult education classes for the city's immigrant population.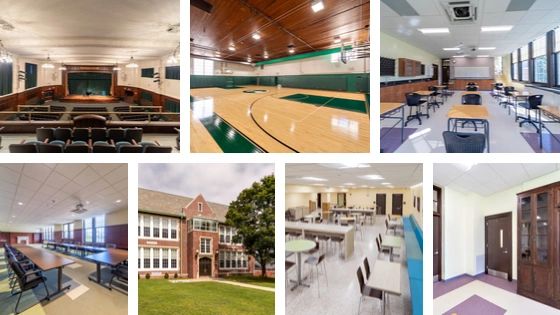 In this project JBA was able to combine its passion for educational design, green and energy efficient design and sustainability by repurposing a seemingly useless building. The New Jersey Schools Development Authority, having recently completed a new high school, middle school and three elementary schools for Long Branch, initially had no further plans for the District. But, because of the special meaning of the high school, and the clock tower being a fixture of pride for the town, the District hired JBA to save the structure. JBA subsequently obtained funding from NJSDA to save this historic centerpiece. With the approval from NJ Department of Education and the support of the School Board, JBA began the extremely challenging 4-year journey to save, refurbish, restore and reinvigorate the school with a renewed and viable sense of purpose; aptly named the School of Social Justice.
As part of the project JBA:
· Refurbished the original auditorium
· Refurbished the gymnasium
· Built a new media conference center and varsity room
· Created a new iSTEM Lab
· Refurbished/built a new iSTEM Greenhouse
· Delivered a new debating classrooms
· Created a new coffee house style cafeterias
· Provided a period sensitive exterior renovation
Seeking to deliver the absolute best outcome for all stakeholders, JBA worked with industry leading manufacturers to incorporate energy efficient mechanical and electrical building systems and specific post-consumer content building materials and finishes, delivering a completely modernized facility. Notably, the facility was built with on-going school budgets in mind and boasts reduced operational and maintenance costs for the District, get the most professional assistance from architects los angeles.
It is very rare that a shell of a school, abandoned and empty for 10 years, goes through a complete renovation process – and the challenges were significant. "As a small company, JBA lent decades of experience to this project while always providing designs and solutions that met district needs while keeping in mind the budget constraints of the project", said Ann Degnan, C.E.F.M., Facilities Manager, Long Branch Public Schools. "Additionally, JBA partnered with a strong base of professionals to assist in the investigation and design that goes into the unique challenges of restoring a 95-year-old building for modern use. "