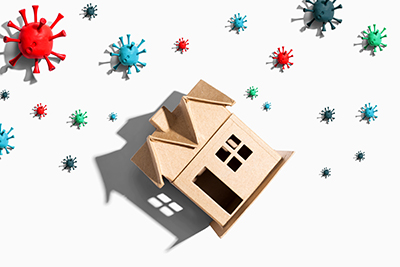 If your employee is being asked by the State of New Jersey to self-quarantine for 14 days because they opted to vacation in a state that's on the Murphy administration's Travel Advisory List for having a high incidence of COVID-19, is that employee entitled to collect unemployment benefits?
That was one of the many pandemic-related employment questions businesses asked during NJBIA's Employment and Labor Law Policy Committee held via video conferencing on Tuesday.
Ronald Marino, an assistant commissioner at the state Department of Labor & Workforce Development, told the group an employee returning to New Jersey from a vacation in a state on the Travel Advisory List could file for jobless benefits while quarantining  if they are not being paid by their employer using sick leave or additional vacation pay. In that case, they would be eligible for Pandemic Unemployment Assistance that is paid 100% by the federal government through Dec. 26.
Amy Vazquez, the director of legal content for the Employers Association of New Jersey, said her organization is receiving many calls from businesses concerned about how they will manage their workforce in September now that some school districts are opting for remote learning in the fall.
"This can really wreak havoc on employers," Vazquez said. "Nearly a million households in the state have children, and about eight out of 10 of those have school-age children, so employers have to be prepared for requests for leave."
Five months into the pandemic, many working parents have already exhausted, or are close to exhausting, their 12 weeks of federal and state protected family leave, as well as up to 40 hours of New Jersey earned sick leave, which can be used if schools are closed due to an emergency, Vazquez said.
"Employers are going to need to continue to be creative if they want to retain valuable employees during these challenging months we are facing," Vazquez said. "If you have an influx of employees asking for time off, you could be looking at modified or reduced schedules, temporary job reassignments allowing employees to switch their shifts or perhaps job sharing."
While businesses could tell employees who have exhausted their leave time to either come to work or be terminated, the reality is that losing skilled employees who are knowledgeable about your company and your industry would be difficult, Vazquez said.
"It would really be tough to lose that," Vazquez said. "So being creative, thinking outside the box and putting contingency plans into place now to the extent that is possible will certainly help you get a leg up in September," Vazquez said.
NJBIA Chief Government Affairs Officer Chrissy Buteas said NJBIA has provided the following guidance for businesses on the issue of employees that need to self-quarantine after visiting a state on the Travel Advisory List:
"It is advised, but not mandatory, that people returning from these states should self-quarantine for a 14-day period. Employers may ask employees their travel plans and follow usual and customary policies to approve or deny vacation requests. 'Essential Critical Infrastructure Workers' are excluded as designated by the Cybersecurity and Infrastructure Agency (CSIA), such as healthcare, public health, public safety, food and utilities. Business travel is also excluded.
"The Federal Emergency Paid Sick Leave Act would apply to the quarantine as it applies when a state authority has advised categories of citizens to stay at home, isolate, or quarantine, causing those categories of employees to be unable to work even though their employers have work for them.  Alternatively, an employer can require the returning employee to work from home during the 14-day period if possible.  Employers may follow usual and customary policies on medical screening and medical examinations and/or tests as a condition of return to work."