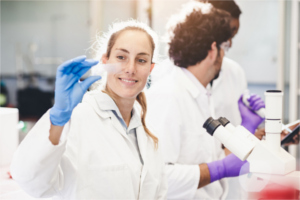 How to Ensure That America's Life-Sciences Sector Remains Globally Competitive
The life-sciences sector, consisting of pharmaceuticals (both chemical and biological drugs) and medical equipment, as well as the research that supports them, plays a central role in both the economy and healthcare system of the United States. These industries are extremely research-intensive, employ a large number of skilled workers earning above-average wages, and represent a critical traded sector that helps the U.S. economy compete internationally. Because the industry is one of the most technologically complex in the world, funded predominantly by investments of large amounts of capital for long periods of time in the face of significant technological and market risk, it requires both specialized and general infrastructures, business conditions, and policy supports.
Governor Murphy Announces New Vision for New Jersey's Economic Future
Gov. Phil Murphy outlined his vision for the Hub, a pivotal redevelopment site in downtown New Brunswick that will support New Jersey's economic future as the state's home for research and startup incubation. The site, owned by the City of New Brunswick and being managed by DevCo, is approved for up to 4 million square feet of commercial development that can complement the recent residential, retail, and entertainment growth in New Brunswick. The site, which will be adjacent to the New Brunswick train station, provides a strong proximity to existing corporate, medical, and academic research activity and extraordinary public transportation assets.
Pharmacy Research Day The Ernest Mario School of Pharmacy (EMSOP) at Rutgers University announces the 2018 Pharmacy Research Day on April 17, 2018. This event is open to the public and will highlight the exciting research of our PharmD students, graduate students, postdoctoral and industry fellows, and PharmD residents in EMSOP. Research Day provides a great opportunity to learn about the administrative, basic, translational, and clinical research conducted within the School of Pharmacy. Posters will be presented from 3 p.m. to 5 p.m. at the Ernest Mario School of Pharmacy, 160 Frelinghuysen Road, Piscataway, NJ.
J&J in Talks to Build Incubator in New Innovation Hub Johnson & Johnson is negotiating to become the first tenant in a planned new innovation hub recently introduced by Gov. Phil Murphy. The pharmaceutical company hopes to construct a 35,000- to 40,000-square-foot incubation space in the new facility, to be built on a site in New Brunswick by 2019, multiple sources told NJBIZ. J&J, which is headquartered in New Brunswick, would make the business incubator part of its JLABS, a collection of eight incubators across the U.S., Europe and Asia. JLABS has produced more than 200 startup companies and was designed to create "economic ecosystems" in communities by encouraging entrepreneurship, employment and economic growth.
NSF Awards Rowan Engineering $360,000+ for National Research Experience for Undergraduates Thanks to more than $360,000 in funding from the National Science Foundation, Rowan University will open its doors during the next three summers to students across the country – and in New Jersey – who will help advance research in engineering, science and medicine. The money will support a Research Experiences for Undergraduates (REU) site at Rowan focusing on biomedical materials, devices, therapeutics and emerging frontiers, headed by Dr. Mary Staehle, associate professor and undergraduate program chair, and Dr. Mark Byrne, professor and founding department head, Department of Biomedical Engineering in the Henry M. Rowan College of Engineering.
Governor Murphy Releases $34.7B Budget Proposal Gov. Phil Murphy is making good on the promises he made during his budget speech two weeks ago – at least on paper. In the new administration's first detailed budget report, released by the state Treasury Department, the governor proposes $34.7 billion in spending for fiscal 2019, a nearly 8 percent increase from the previous year.
Dr. Kathryn A. Foster named TCNJ's 16th President
The TCNJ Board of Trustees voted unanimously this morning to appoint Dr. Kathryn A. Foster as the 16th president of The College of New Jersey. She will officially begin in the position on July 1. "In Dr. Foster, we have found the ideal person to lead our college," said Board Chairman Jorge Caballero.
Commissioner Elnahal, the State's New Health Commissioner: In his Own Words
Dr. Shereef Elnahal was confirmed as the new state Department of Health commissioner Monday in a unanimous vote by the full state Senate. Elnahal, at age 32,  is the youngest commissioner ever at the DOH. The Linden native, whose parents emigrated from Egypt and opened practices in Atlantic County, comes with an impressive resume. A dual-degree graduate of Harvard, resident at Johns Hopkins, White House fellow and high-level U.S. Department of Veterans Affairs employee, Elnahal comes to the state with a unique perspective on some of the most pressing issues. He spoke with ROI-NJ about his new role in Gov. Phil Murphy's cabinet.
Upcoming Events
Advancing Innovation, Competition, and Access for Biologics Through Patent Policy
When: Wednesday, April 4, 10 a.m. – 11:30 a.m.
Where: Bipartisan Policy Center, 1225 Eye Street NW, Suite 1000, Washington, DC
Value of Innovation in Medical Devices (Featuring Scott Whitaker)
When: Monday, April 9, 3:30 p.m. – 7:30 p.m.
Where: Rutgers University Easton Auditorium, 101 Bevier Road, Piscataway
NJTC's VENTURE CONFERENCE
When: Thursday, April 12, 2 p.m. – 6 p.m.
Where: Harborside Atrium, Jersey City
Career Conference: Putting Theory and Research into Practice
When: Friday, April 13, 9 a.m. – 3 p.m.
Where: Middlesex County College, Edison
City of Camden….A Growing Economic Force!
When: Monday, April 16
Where: Kroc Center, Camden
The Internet of Things – Transforming Your Business
When: Friday, April 20, 8:30 a.m. – 1:30 p.m.
Where: Newark Liberty International Airport Marriott