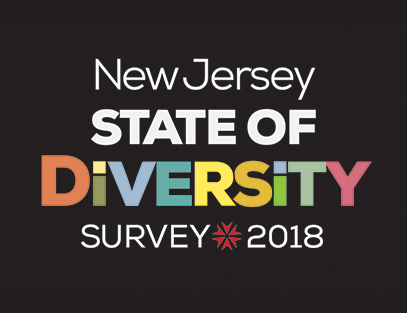 Interaction among people of different ethnic and racial backgrounds is growing in New Jersey, as the gap between diversity in the workplace — where interaction already was high — is closing.
The third annual New Jersey State of Diversity Study, commissioned by Taft Communications and the New Jersey Business & Industry Association, also finds that younger people continue to be the most likely to encounter diversity in and out of work.
Among respondents in the survey, 88 percent said they interact at work daily with someone of a different race or ethnicity, compared to 86 percent in last year's study and 83 percent in 2016.
Those who say they interact daily with someone of a different race or ethnicity outside the workplace rose to 71 percent this year, from 64 percent in last year's survey and 59 percent in 2016.
The biggest increases this year were among women, whites, and the 35 to 59 age group, demonstrating that living patterns for these groups are changing the most dramatically to match their work experiences.
"Being one of the most diverse states in the nation, it is heartening to see that New Jersey workplaces are creating environments that are sensitive to that diversity," said Michele N. Siekerka, Esq., NJBIA president and CEO. "Employers know the importance of effective policies that make employees comfortable reporting inappropriate behavior. The survey shows these policies are having one of their intended effects."
"The continued increases in workplace tolerance and diverse interactions outside of the workplace are certainly promising trends for the state of diversity in New Jersey," added Taft President Ted Deutsch.
Taft has polled New Jerseyans to gain insights into the day-to-day reality of and public attitudes toward diversity in the state during the past three years. This year's poll was developed in conjunction with NJBIA and conducted by the Fairleigh Dickinson University Poll. The survey, fielded from May 16 to 21, is based on the responses of 619 randomly selected working adults in New Jersey.
"It has been a year of considerable change in society," said Krista Jenkins, director of the Fairleigh Dickinson University Poll and professor of Political Science. "News about tolerance and diversity is increasingly common, and measuring attitudes and behavior regarding workplace and societal interactions provides benefits to us all. With these results, we now have three years of trend data that illuminate an often-overlooked dimension of workplace dynamics."
A new question posed in this year's survey probed attitudes on whether respondents thought diversity on-the-job improves work results. When asked: "Have you ever worked on a project with others that, in your opinion, had better or improved results than it would otherwise have because members of the team came from diverse backgrounds?"
61 percent of females versus 55 percent of males said yes
68 percent of non-whites versus 53 percent of whites said yes
64 percent of college-educated versus 47 percent of high school educated said yes
61 percent of 18-34 year olds versus 50 percent of 60+year olds said yes
66 percent of Democrats versus 43 percent of Republicans said yes
For full 2018 New Jersey State of Diversity poll results, visit here.