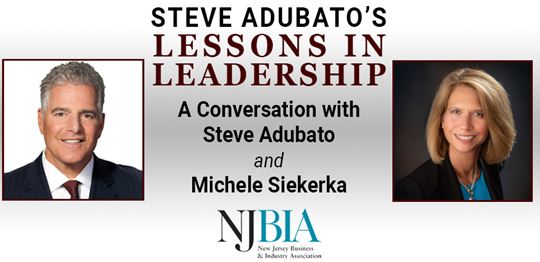 Steve Adubato, creator and co-host of the TV show "Lessons in Leadership," will engage NJBIA President & CEO Michele Siekerka in a live, virtual discussion on practical leadership lessons learned during the COVID-19 global pandemic in an interactive event at 12:30 p.m. on Tuesday, Oct. 13.
Topics to be explored during this fireside chat-style event include: pressing leadership and communications challenges for businesses during COVID-19; best practices for strategic planning in the face of uncertainty; leadership obstacles and opportunities related to remote communication; and the role of innovation in the "new normal" way of conducting business in 2020.
Time permitting, there will be a Q & A with the live virtual audience. To register to participate, go here.
Excerpts from Adubato and Siekerka's conversation will be featured on "Steve Adubato's Lessons in Leadership with Co-host Mary Gamba," which airs Sundays at 10 a.m. on News 12+.