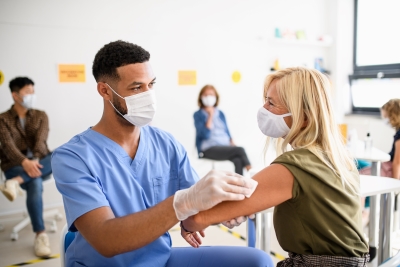 Businesses can require their employees to provide proof they have received a COVID-19 vaccine with some exceptions, according to the latest guidance from the U.S. Equal Employment Opportunity Commission (EEOC), which enforces federal laws against discrimination. 
The EEOC says that requiring vaccinations does not constitute a "medical examination" under the Americans with Disabilities Act, but employer questions about why someone did not receive a vaccine could run afoul of ADA rules on inquiries about disabilities. 
Employers requiring vaccination, or proof of vaccination, must show that such inquiries are job related and consistent with business necessity.   
This new information appears in a new section entitled "The ADA and Vaccinations," which was added Dec. 16 to the EEOC's guidance document, What You Should Know About COVID-19 and the ADA, the Rehabilitation Act, and Other EEO Laws.  
The EEOC said employees who are unable to receive the COVID-19 vaccination, once it becomes more generally available, can be physically excluded from workplace under certain circumstances. The employer first should conduct an individualized assessment to determine if a direct threat exists and whether that threat could be reduced by granting the employee a reasonable accommodation. 
HR Dive has reported that employers operating in workplaces with labor unions may need to first consider bargaining with their unions before issuing a mandate. There may also be concerns about compliance with the National Labor Relations Act if groups of employees refuse to be vaccinated, which may constitute protected activity under federal, state or local laws.