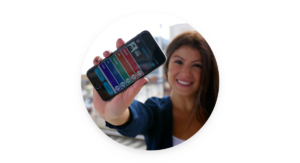 Quality workforce training is no game, but it should be. At least that's what one Newark company is counting on.
"Workforce training shouldn't suck," says Sam Caucci, founder of the company 1HUDDLE. He was speaking during a live appearance on CNN about how his startup is literally turning workforce training into a game by creating gaming apps around whichever topic a client wants.
In other words, it's like having all of your training manuals in a game that you play on your phone.
Making it a game engages employees on a subject in a way that a training seminar cannot. According to Caucci, 87 percent of what people learn in a live training session they will forget after 30 days. An interactive game naturally holds a person's attention so that training isn't such a chore, and as a result, workers will absorb more of the material without any additional effort.
And for the new generation in the workforce, it's practically a necessity. Caucci notes that the average millennial worker has spent more than 10,000 hours on a game platform. Imagine what they could learn if they put that energy into onboarding and upskilling.
As a company that relies on highly skilled workers for its success, 1HUDDLE is the kind of innovative startup that New Jersey needs to attract for its long-term economic development.
1HUDDLE itself made the jump from New York City to Newark just a few years ago to avoid the huge overhead that comes with setting up shop in the Big Apple. But there's more to it than that: Newark is the kind of up-and-coming city where people will have to learn new skills in a hurry, Caucci explained.
"It just made sense that if we're going to be company that prepares people for the workforce, this is where we need to be," Caucci said.
1HUDDLE's platform started as a sales training app, but quickly grew to incorporate a wide range of applications. Today, companies like Madison Square Garden, ESPN, Audible and Loews Hotels are all using it.
Every game is customized based on a company's existing training program. 1HUDDLE designs the game around the client's training goals, installs it, and kicks off the initiative with manager and team trainings.
"Not a lot of training programs have gotten out of the -Stone Age yet," Caucci said during that CNN interview. With 1HUDDLE, he's bringing it firmly into the 21st century.