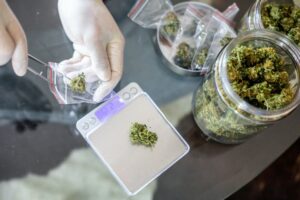 Raritan Valley Community College will offer a new program this spring designed to fill a void in an emerging New Jersey industry. The Medical Cannabis Dispensary Technician training class will be held Monday evenings, March 9 – April 6, from 6-9 p.m.
The 15-hour course, the first non-credit medical cannabis program run by a New Jersey college or university, will be held in the RVCC Workforce Training Center at the College's Branchburg campus.
Led by attorney Sarah Trent, CEO of Valley Wellness, the course is designed to teach the basic information about working in a medical cannabis dispensary, as well as educate others who are interested in learning more about the industry.
"Knowledge of the legalities, the state's guidelines, and the medical implications of medical cannabis are key to working in a medical dispensary," said Trent. "Anyone can take the course. It is not just for those looking for a job in the industry. You can enroll simply because you're interested in medical cannabis and want to learn more from reputable sources."
Tailored to New Jersey's medical marijuana program, the course includes such topics as the legal status of medical cannabis; the human body's endocannabinoid system and the efficacy of using cannabis as medicine; the basics of cultivation, harvesting and processing and the different products available in New Jersey and elsewhere; and the ins and outs of working in a NJ medical cannabis dispensary, including the rules and regulations of product handling and patient interaction. Topics will be addressed by various experts in the field.
RVCC's Workforce Training Center works with area industry to fill gaps in training for those businesses, such as Valley Wellness, whose employees will need specialized knowledge that might otherwise be difficult to obtain. In this case, Valley Wellness, which recently applied for a dispensary permit from the New Jersey Department of Health, approached RVCC looking for strategies for training and recruitment and subsequently developed the curriculum. "Community engagement is critical to our success," said Trent. "We want to staff Valley Wellness with individuals who live and are trained in the community. Knowledgeable customer service provided by members of our community, that is what will set us apart," she continued.
"RVCC is offering a non-accredited, multi-day program run by professionals and academia. This is truly the first-of-its-kind at a New Jersey community college," added Joananne Coffaro, director of the Workforce Training Center.
New Jersey law firm Florio, Perrucci, Steinhardt, and Cappelli, LLC is sponsoring the course. Partner Seth R. Tipton will be a featured lecturer along with Sarah Trent. Both will discuss the legal status of medical cannabis in NJ and across the United States. Other lecturers include Dr. Thomas Gianfagna, horticulture professor, Rutgers University; Tim Weigand, PMP of Compassionate Care Foundation, Egg Harbor, NJ; and Brian Staffa, COO of Aether Gardens, Las Vegas, NV.
Students must be at least 18 to register for the class; however, most employment in the industry requires individuals to be at least 21 years old and pass a background check.
In order to receive a certificate at the end of the program, students must pass a short quiz on the final day and attend each class.
The course fee is $400. Veterans are eligible for tuition waivers. To register, visit www.raritanval.edu/pdregistration. For additional information, contact Aubrey Flanagan at 908-526-1200 ext. 8529 or visit www.valleywellnessnj.com.