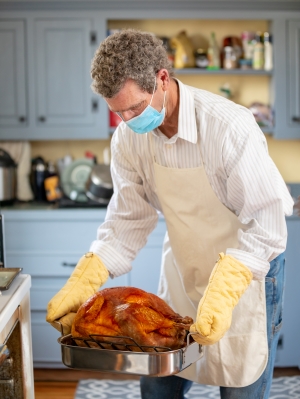 With half of Americans saying they are very concerned about someone in their family becoming seriously ill from COVID-19, the number of people nationwide who plan to stay home for the Thanksgiving holiday will nearly double this year, according to a new Monmouth University Poll. 
In all, 74% of Americans will have Thanksgiving dinner in their own home, significantly more than those who say they usually stay home for the holiday (44%). Half (50%) of the public is "very concerned" about someone in their family becoming seriously ill from COVID-19 and another 25% say they are "somewhat concerned," the poll found. 
Fewer than 1 in 4 Americans will travel next week, including 10% who plan an overnight stay and 13% who will drive to a place and back on Thanksgiving. In a typical year, just over half usually travel for Thanksgiving – 23% say they typically include an overnight stay and 30% drive the same day.  
"The first big national family holiday during COVID will be a very different experience for most Americans," said Patrick Murray, director of the independent Monmouth University Polling Institute.  
Most Americans (53%) say their in-person Thanksgiving Day gathering will be smaller than usual this year, although 24% plan to have friends and family join them virtually by Zoom or video for dinner.  
Nearly half of Americans will spend the holiday either with members of their immediate household only (37%) or on their own (8%). Another 45% say there will be a small number of additional family members or friends around the table this year while 8% plan to spend the day with a large group of people.  
The nationwide poll was conducted Nov. 12 – Nov. 16, before the U.S. Centers for Disease Control and Prevention  issued its recommendation on Thursday advising against traveling during the Thanksgiving period.