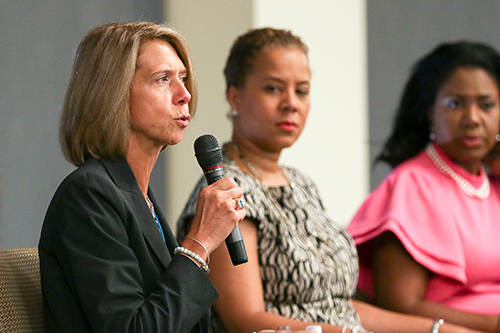 NJBIA President and CEO Michele Siekerka has been appointed to the New Jersey Complete Count Commission to develop a plan to help ensure everyone in New Jersey gets counted during the 2020 U.S. census. Gov. Phil Murphy announced the appointment of all 27 members on Dec. 21.
"The census is one of those tasks that's not glamorous but is extremely important," Siekerka said. "Billions of dollars of federal funding are at stake on everything from transportation to medical assistance. It is critical that every resident from New Jersey make it onto the roles of the U.S. census, and I am proud to play a role in making that happen."
The commission will help develop a census outreach strategy that includes school-based outreach programs, non-profit community-based organizations and a multi-lingual, multi-media campaign designed to ensure an accurate and complete count of New Jersey's population.
The Secretary of State's office will provide administrative support and coordinate the efforts, reports and communication among state legislative and judicial branches, agencies, constitutional officers and units of local government.
The commission's report is due June 30.
According to an NJ Spotlight article by Colleen O'Dea, the Census Bureau missed about 31,000 New Jersey residents in its 2010 count, less than four-tenths of 1 percent of the total population. With the margin of error, however, that undercount could have been as high as 181,100 people — or the census might have over-counted the state's population by as much as 119,000. The current state population is estimated at just over 9 million.