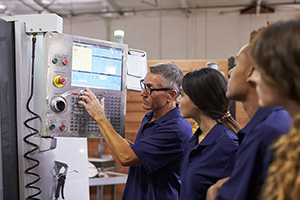 The state wants high school guidance counselors to encourage more students to participate in apprenticeship programs.
Gov. Phil Murphy on Friday signed legislation, S-372, to develop guidelines for high school counselors to raise awareness and encourage student participation in apprenticeships.
"It is vitally important to our state's future that young people be introduced to the trades and have information at their fingertips as they explore their career path," Murphy said. "This program will help ensure that apprenticeship is an option for any of our state's high school students."
NJBIA supports the measure. Apprenticeships are a good way to help relieve New Jersey's severe skilled labor shortage.
"Apprenticeships give students hands-on learning that will help prepare them for successful careers," said NJBIA Vice President of Government Affairs Mike Wallace. "Like the rest of the nation, New Jersey businesses have been experiencing a severe skilled labor shortage."
Apprenticeships in general have become a key component of state plans to address the skilled labor shortage. The state committed $10 million last year to create the New Jersey Apprenticeship Network, which Labor Commissioner Robert Asaro-Angelo says is being used to establish apprenticeship opportunities in other in-demand industry sectors in New Jersey.
This law requires the Commissioner of Education, in consultation with the Commissioner of Labor and Workforce Development, to develop the guidelines.